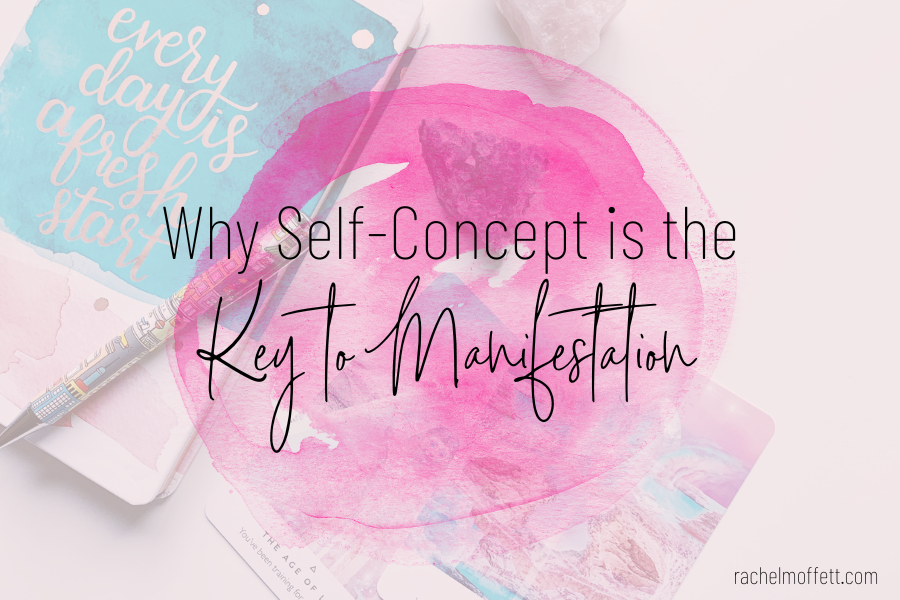 The key to successful manifestation isn't some elusive secret or ancient artifact. It's something you carry within you every single day, yet may have overlooked. It's your self-concept—the lens through which you view yourself and the foundation on which your dreams are built. And once you have understood and mastered it, it holds the potential to catapult you toward a life of abundance, success, and fulfillment.

But what exactly is your self-concept? And why does it play such an important role when it comes to manifesting your desires? This article shares everything you need to know so you can grasp just how crucial it is to cultivate an empowered mindset.
What is Self-Concept?
It's safe to say that "self-concept" has become quite the buzzword in the manifestation community. This is particularly true if you've found yourself immersed in the world of the Law of Assumption. However, if you're new to this term, you might wonder what it means.

Well, self-concept is the way you see and understand yourself. It's the beliefs, ideas, and perceptions you hold to be true about who you are as a person. This includes your thoughts about your abilities, qualities, and worthiness. Essentially, self-concept shapes how you view yourself and it influences your thoughts, behaviors, and actions in various aspects of your life.

Your self-concept can also be shaped by a number of things. Your parents, teachers, society, and past experiences all play a role in cultivating your beliefs. On one hand, this can be a great thing if you've had a lot of positive reinforcement in your life. However, we sometimes pick up unwanted thoughts that create limiting beliefs that hold us back. That's why it's important to do the work to reprogram your mindset!
Why Self-Concept is the Key to Manifestation
Now that you have an understanding of what self-concept is, there's one important thing you need to know. It's key to mastering manifestation. If you want to attract your desires and create your dream life, you need to improve your thoughts and beliefs. Here's why:
1. Our Beliefs Shape Our Reality
Our self-concept is shaped by our beliefs, which are often deeply ingrained at the subconscious level. If we believe that we are capable of achieving our goals, we are more likely to take action toward them and manifest them into reality. But if we believe that we are unworthy or incapable, we may self-sabotage or give up on our goals before we even begin.
2. Our Thoughts Are Aligned With Our Beliefs
Our self-concept also impacts our thoughts. If we have a positive self-concept, we are more likely to have positive, empowering thoughts that align with our goals. These thoughts can help us stay motivated and focused, even in the face of obstacles. But if we have a negative self-concept, we are more likely to have negative, limiting beliefs that can hold us back and prevent us from manifesting what we truly desire.
3. How We View Ourselves Impacts Our Emotions
With a positive self-concept, we are more likely to feel confident, happy, and fulfilled, which can attract positive experiences and opportunities. With a negative self-concept, we may feel anxious, insecure, and unhappy, which can attract negative experiences and block our manifestations. Remember that like attracts like, so put out good vibes as often as possible!
4. It All Influences Our Everyday Actions
If we have a positive self-concept, we are more likely to take positive, proactive actions toward our goals. We may be more willing to take risks, try new things, and step outside our comfort zone. But with a negative self-concept, we may be more prone to procrastination, self-doubt, and fear, which can prevent us from taking the necessary action toward our goals.
Want to Improve Your Self-Concept?

Ready to take your manifestation journey to the next level? Join The Manifestation Vault today and unlock a treasure trove of resources designed to empower your mindset and amplify your manifesting abilities!

In The Manifestation Vault, you'll gain access to exclusive in-depth masterclasses. These masterclasses will provide you with valuable insights, practical techniques, and actionable strategies to supercharge your self-concept, eliminate limiting beliefs, and align your thoughts with your desires. Enter the Vault for just $44/month!