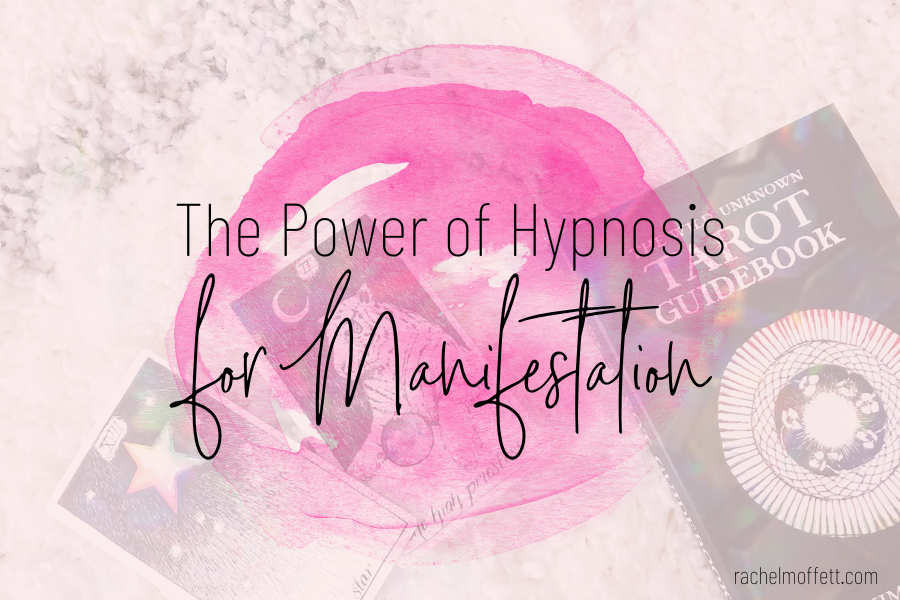 Before completing my coaching certification with YES SUPPLY, I didn't properly understand hypnosis. I didn't know what it truly was or how it worked. All I knew was what I saw in movies. And I certainly didn't know how you could use hypnosis for manifestation. But once I learned about hypnosis and began incorporating it into my life (and my coaching sessions), I saw just how powerful it can be.

Through hypnosis, we have the potential to reshape our beliefs and amplify our manifestation abilities at the same time. In this article, I want to explain why this modality is so effective at reprogramming our mindsets at the subconscious level. Plus, I want to share why that's essential if you hope to manifest your desires.
Understanding Hypnosis
Before we go any further, I want to help you better understand what hypnosis is. This way, you can feel safe and comfortable before experiencing it for yourself. You don't want to have any resistance or hesitation going into a hypnosis session. You want to feel good! So, let me explain.
Hypnosis Isn't Mind Control
I want to make it very clear that hypnosis isn't a form of mind control. The stage hypnosis that you're used to seeing in movies isn't an accurate representation of the work hypnotherapists do with their clients. There's no wandering around and quacking like a duck!

During a hypnosis session, you're always in control. It's not about losing consciousness or being manipulated. You can't be made to do anything against your will or values. It's a collaborative process where you work together with the hypnotherapist or your own mind to create positive changes. So again, you're not going to be made to do something you don't want to do.
What Hypnosis Really Is
Hypnosis is simply a natural, relaxed state. In this state, your mind becomes more open and receptive to positive suggestions and new perspectives. That's what makes it such a powerful tool because it allows you to tap into the hidden layers of your mind—the subconscious.

Your mind has two main parts: the conscious and the subconscious. The conscious mind is responsible for your everyday thoughts, decisions, and logical thinking. It's like the tip of the iceberg you can see above the water. But beneath the surface lies the vast and powerful subconscious mind. This is where your beliefs, habits, memories, and emotions reside—the hidden force that often guides your actions without you even realizing it.

Hypnosis lets us communicate directly with the subconscious. Imagine updating the software of your mind to install new, positive beliefs that align with your goals and desires. You can think of it as reprogramming your mind for success and happiness.

When you're in a hypnotic state, a hypnotherapist or even yourself (through self-hypnosis) can guide you through relaxing techniques. These techniques help quiet your conscious mind and reach that receptive state where you're more open to suggestions.

In a nutshell, hypnosis is a doorway to your subconscious mind, where you can reshape your beliefs and thought patterns. By doing this, you're aligning your mind with your goals and desires, making it easier to manifest the life you want.
Using Hypnosis for Manifestation
Now, let's talk about how such a powerful modality as hypnosis can play a role in the manifestation process. Here's what you need to know:
Beliefs and Manifestation
As you likely know, manifestation is the process of turning our thoughts and desires into reality. The Law of Attraction, a central concept in manifestation, suggests that like attracts like. In other words, our thoughts and emotions create energetic vibrations that attract similar vibrations from the Universe. Therefore, what we believe to be true on a subconscious level can significantly impact what we manifest in our lives.

This is where hypnosis for manifestation comes into play. Our subconscious beliefs, often formed during childhood or through repeated experiences, can be limiting or negative in some cases. These beliefs act as filters that shape our perception of the world and influence or decisions. If we hold subconscious beliefs that contradict our conscious desires, our ability to manifest those desires can be impeded.
Hypnosis and Reprogramming
Hypnosis provides a means to access the subconscious mind and replace limiting beliefs with more empowering ones. During a hypnosis session, a trained hypnotherapist or self-hypnosis techniques guide you into a state of deep relaxation and heightened suggestibility. In this state, the subconscious mind becomes more open to positive affirmations.

Through carefully crafted suggestions, you can rewrite your subconscious narratives. For example, someone struggling with low self-esteem can use hypnosis to install beliefs like, "I am worthy of success and happiness" or "I have the power to create my desired reality." As these new beliefs take root in the subconscious, they begin to align with conscious desires, creating a harmonious environment for manifestation.
The Benefits of Hypnosis for Manifestation
Here are a few key reasons why you should start using hypnosis for manifestation:
Alignment: Hypnosis bridges the gap between conscious desires and subconscious beliefs, creating alignment that fosters manifestation success.
Efficiency: Reprogramming the subconscious mind through hypnosis can expedite the process of belief transformation compared to traditional methods like affirmations.
Emotional Clearing: Hypnosis can help release emotional blockages tied to past experiences, freeing up energy for more positive manifestations.
Harness the Power of Hypnosis for Manifestation
Now that you recognize the influence of our subconscious beliefs on the reality we create, it's time to get to work! By rewriting these beliefs through hypnosis, you can create a strong foundation for positive manifestation outcomes.

The Manifestation Vault is your key to reprogramming the subconscious and attracting your dream life. Each month, you'll receive a new module on a mindset or manifestation topic. Plus, there are monthly group hypnosis sessions hosted live to help you improve your self-concept! But that's not all! There are live Q&As, a community, and resources like subliminal meditations to help you step into your best self. Join now for just $44/month.