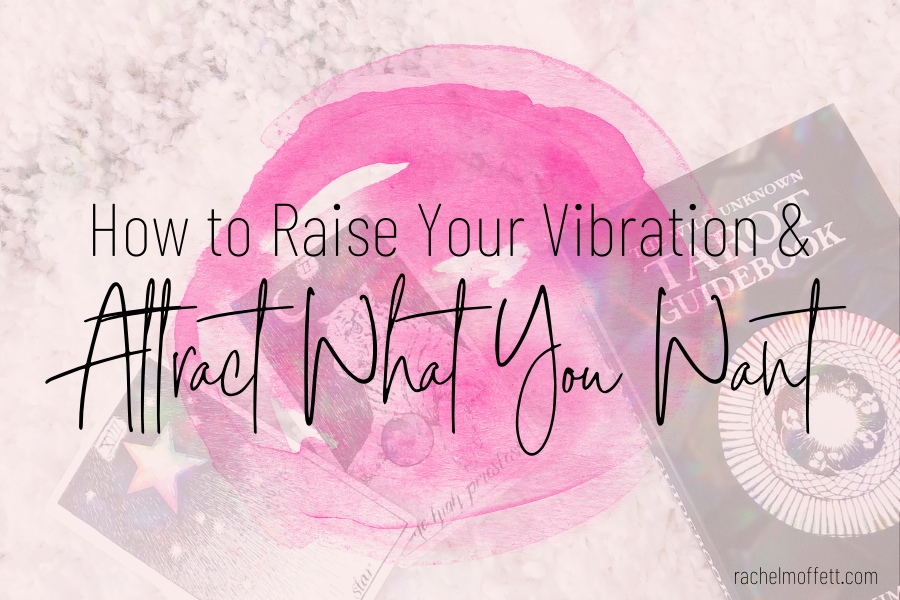 Whether you're looking to attract new clients to your business or make more money, the key to manifesting your desires is to raise your vibration.

But if you're not sure what in the world your energetic vibration is or how you can raise it to a higher frequency, you're in luck. In this post, you'll learn all about tapping into the frequency of what you want so you can use it to your advantage by creating your dream life.
So, What's a Vibration?
Well, the thoughts and feelings you experience on a daily basis have a vibration that can be measured. When you raise your vibration, it allows you to connect to a higher place, a better state of mind. And as we know with the Law of Attraction, you need to be on the same vibrational frequency as the things you desire in order to manifest them into your life. This means you can raise your vibration, meet your desires, and watch them manifest.

But how exactly do you start vibrating on the same energetic frequency as those things? It starts with one very important step…
Get Clear on What You Want
Where so many people go wrong with manifestation is that they put too much focus on what they don't want. Because what you focus on is what actually manifests, you wind up attracting all the wrong things into your life. That's why you need to direct your attention towards what you do want instead.

Not only that, but you need to place a clear order with the Universe for exactly what it is you desire. Think of it like placing an order at a restaurant. You state what you'd like to receive and trust that it'll arrive when it's ready. There's no question or doubt about it in your mind that your food is on the way. That's how you need to be with your manifestations as well.

Focus on what you want to manifest, but don't attach yourself to how it's going to happen. The Universe will take care of that. Instead, you need to take aligned action with full faith that everything is working out in your favor.
How to Raise Your Vibration & Attract What You Want
Once you've placed your order with the Universe, it's your job to raise your vibration to get onto the same energetic frequency as the things you desire. Here are 10 ways you can do this:
1. Start Meditating Regularly
Meditation is an amazing way to clear your mind and program yourself for success. Personally, I love to do guided meditations that provide powerful affirmations or prompt me to visualize myself achieving a goal. Doing this helps me to tap into the feelings of having everything I desire, making them more likely to manifest.

My favorite tool for doing this is Insight Timer. It's an app that you can download onto your phone and even set reminders to meditate every day. There are paid courses as well as tons of free meditations you can utilize. Some of my favorites include: Manifest Your Deepest Desires with Melissa Ambrosini and I AM Affirmations: Manifesting Abundance, Prosperity, & Success with Kenneth Soares.
2. Make Journaling an Everyday Practice
I've been journaling in some capacity for a good chunk of my lifetime. However, the way I journal now is much different. I'm not keeping a diary where I record details of my day. Instead, I use journaling as a tool to raise my vibration and manifest what I want through a technique called scripting.

Scripting encourages you to visualize what life would be like and how you'd feel once your desires have appeared in your physical reality. It's just another way to help you embody that energy now so you can effortlessly attract what you want.

My course, Journaling in Flow, shares my three-step scripting process along with some other helpful resources that will guide you in getting started with scripting.
3. Create a Vision Board
A vision board is a fantastic way of creating a visual representation of your goals and other things you'd like to manifest into your life. It will then serve as a daily reminder of what you're working towards in both your personal life and your business.

My vision board reflects my financial goals, traveling I want to do, and business milestones I'd like to reach. And not only that, but I have a couple different vision boards so I'm prompted to see it every single day. I have a physical vision board on the wall next to my desk in my office. I also have one on the lock screen of my phone. This way, my goals are always top-of-mind.

However, it's not enough to just fill your vision board with all sorts of gorgeous images. You'll need to spend some time actually visualizing the things you want, which brings me to my next tip…
4. Visualize What You Want
To do this, think about how you'd feel once you've finally reached that goal or manifested that thing. What will you do? How will it change your life? Sit in the knowing that whatever this thing is on its way to you in exactly the right way and time. As you do, it'll raise your vibration because you start to feel all the emotions of it already being yours. You begin to see it as a possibility.
5. Take Action to Get Closer to Your Dream Life
Another area where so many people go wrong is that they think the Law of Attraction means everything will magically work out. This isn't the case. You still need to show up and take action to get you closer to the things you want. You can't tell the Universe that you want to earn $100k this year and then do absolutely nothing about it.

To help you take inspired action, think about what your dream life is going to look like and how things will change for you. What are the difference between that life and your current reality that you can start incorporating into you day now? (For example, daily habits and rituals like a morning routine.) How are you going to feel when your dream life is a reality and how can you tap into those same feelings every day right now? This will help raise your vibration and bring you closer to making this life your reality.
6. Get Your Blood Flowing With Exercise
I know you're probably wondering what exercise has to do with your energetic vibration. But here's the thing… You feel good after a workout, don't you? Your mood has usually improved. You likely feel empowered and ready to take on the day. So, with exercising, you're able to bring yourself into this positive, energetic frequency. And when you feel good, you open yourself up to allow even more good things to flow your mind.
7. Declutter Your Space
Take a look around you. Is your surrounding space neat and organized with everything in its rightful place? Or are things kind of a cluttered mess? If it's the latter, don't feel bad because we all get a little disorganized from time to time. However, that clutter could be stopping you from attracting the things you desire.

When there's too much clutter, there's no space for anything new to manifest into your life. That's why you want to keep things tidy. If you could stand to do some cleaning, schedule it into your week and tackle one room or area of your home at a time so it's less overwhelming.

Once everything is in order, you'll feel lighter and refreshed. It signals to the Universe that you're ready to manifest everything you want. It's such an easy way to raise your vibration, so make it time to do this ASAP.
8. Surround Yourself With High-Vibe People
While you're at it, it might be wise to declutter your friends list as well. If you're surrounding yourself with people who are bringing you down with constant complaining and negative attitudes, then you need to reevaluate these relationships.

It's never an easy thing to cut ties with people, but if someone is always dragging you down to their level, why would you want to be around them? It's only going to decrease rather than raise your vibration.

So, you have two options. Sit down and talk to those negative people in your life and try to bring them into the light. Or be the savage I know you can be and let them go. When you cut toxic relationships out of your life, you open up space for truly high-vibe people to come in.
9. Be Conscious of Your Thoughts
Another important key that will help you raise your vibration is to become more conscious of your thoughts. By paying attention to what you're thinking throughout the day, you can spot any limiting beliefs that come up when you least expect it.

And when those negative thoughts pop up, replace them with something positive instead. For example, you might start thinking, "Who am I to create this new program? Why would anyone want to work with me?" You could fire back at that negativity by thinking, "I'm experienced and have tons of knowledge to share with my audience. They'll love this program and will appreciate the value I've put into it." Rewriting your negative thoughts goes a long way.
10. Express Gratitude for What You Currently Have
And finally, in order to manifest more amazing things into your life, you need to express gratitude for what you currently have. When you give thanks for what you have, the Universe sees this and takes note by sending even more blessings your way. You can make gratitude part of your journaling practice by jotting down a few things you're grateful for at the start or end of your day. It doesn't matter how big or small they may be, but feeling into gratitude will make all the difference.

Need some guidance as you shift into your next level? We can use incredible, mindset-shifting modalities like Neuro-Linguistic Programming, Emotional Freedom Technique, TIME Techniques™, and Clinical Hypnotherapy to kick those limiting beliefs to the curb. Check out my available coaching packages to see how we can work together.