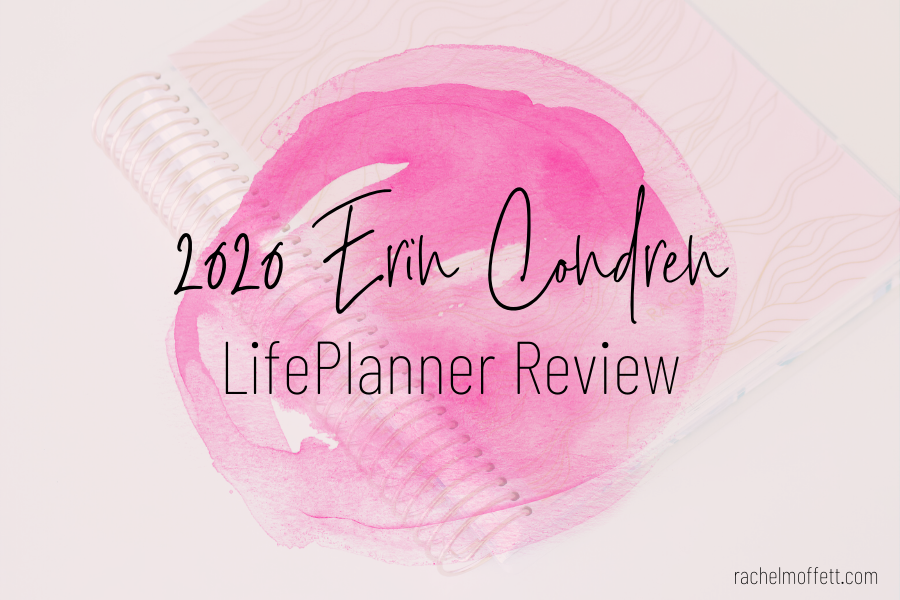 This post contains an affiliate link, which means I will make a commission off any purchases made through the link. Shopping through my links helps me keep things running in my business.
If you're new around here, then you probably aren't familiar with my love for the Erin Condren LifePlanner and the company as a whole. I have been purchasing a new LifePlanner every year since 2014. Not only that, but my office is exploding with EC products. I have notepads and notebooks, pouches and writing utensils, assorted office supplies and interchangeable covers galore. And that's not all. Seriously. I have so much. LOL!

But I truly look forward to the time each year when I get to sit down, pick out, and customize my brand new LifePlanner. And each year, I share a review on my blog to show the planner in all its glory to all of my readers. And I certainly wasn't going to skip that tradition this year! So, the time has come to unveil my latest planner.

And if you want to save $10 on your first Erin Condren purchase, please use my affiliate link to get your savings. Your support truly means so much to me. Start shopping here.
2020 Erin Condren LifePlanner Review
Before we dive into the pictures, I want to share with you the customization options I chose for my planner. If you aren't familiar with the Erin Condren LifePlanner, there are actually a number of options to choose from!

Personally, I go with the horizontal layout. It works best for me because I have large handwriting and I want lines so my writing is neat. There's also the classic vertical layout and the hourly if those work best for how you plan. This year, I opted for the neutral colorway, which allows any stickers I use to get all the attention on a simpler layout. This is something I change from year to year depending on how I feel, but I'm typically team neutral.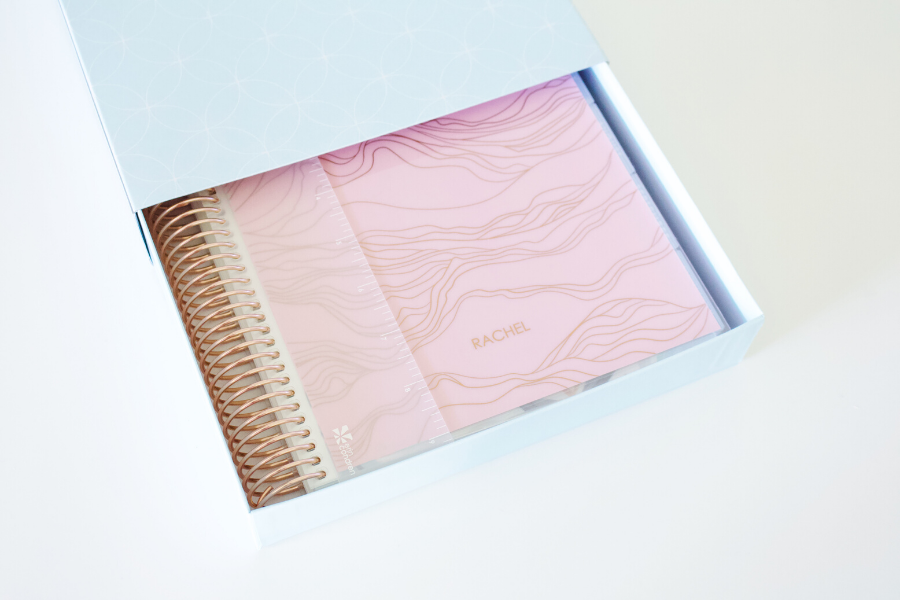 This year's planner arrived tucked inside a mid-century circles box, which is a previous design Erin Condren has used. These boxes really come in handy. I actually use them to store my interchangeable covers and stickers, but you can use them to store past planners. (Yes, there was tissue paper, but I removed it for the photo!)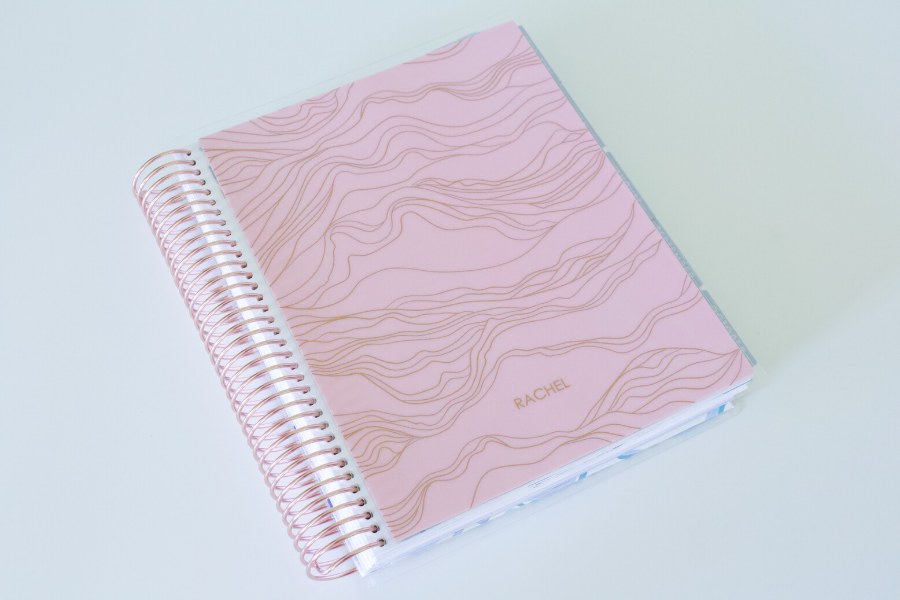 For my 2020-2021 Erin Condren LifePlanner, I'm all about pretty in pink. I went with the metallic "Layers" cover, which is the newest design. This cover comes in blush (as pictured above), as well as gray and pool (a lovely blue). To complement the cover, I chose the gorgeous rose gold coil, which is hands down my favorite. This particular coil has improved so much since its inception years ago and I couldn't be happier. I experienced a lot of flaking with the original rose gold coil, but this hasn't been an issue in recent years.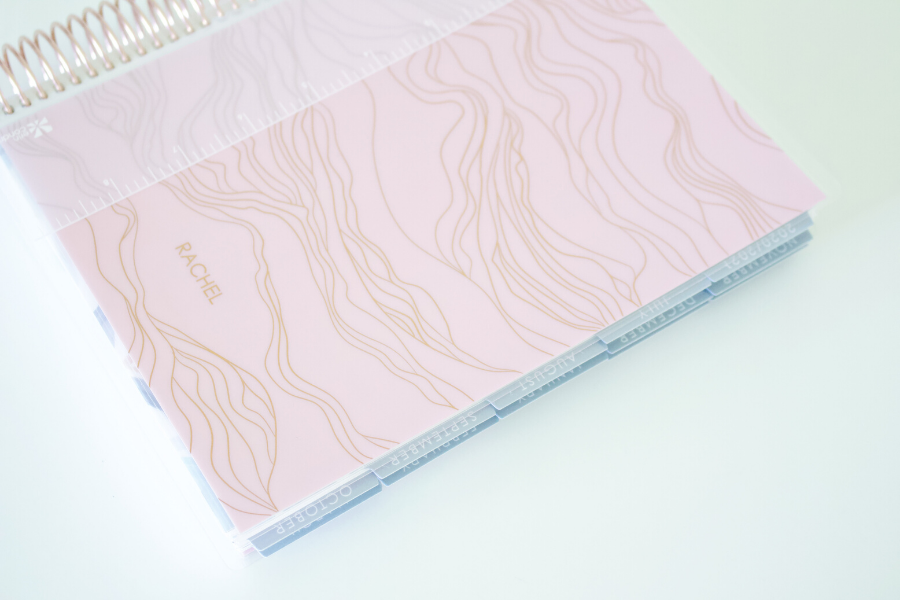 The tabs on the side of the planner are great for easily flipping back and forth between sections. If you choose the neutral colorway like I have, your tabs will be gray. The tabs label the yearly overview spread, each month featured in your planner, as well as the notes and contacts section in the back.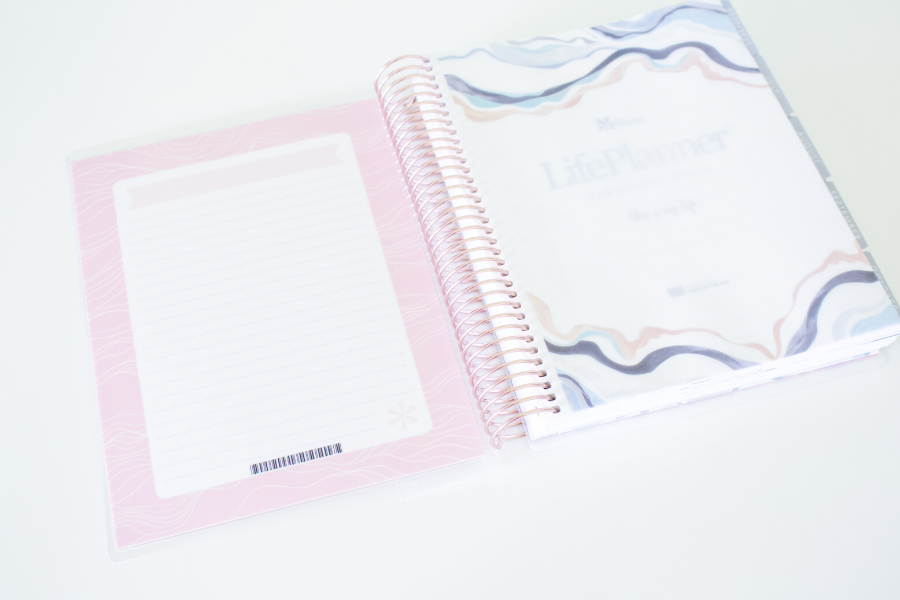 When it comes to the Erin Condren LifePlanner, there's no denying that functionality is key. On the inside of your interchangeable covers, you'll find space to jot down notes with wet erase markers. There's a lined space on the front cover and a blank space on the back cover.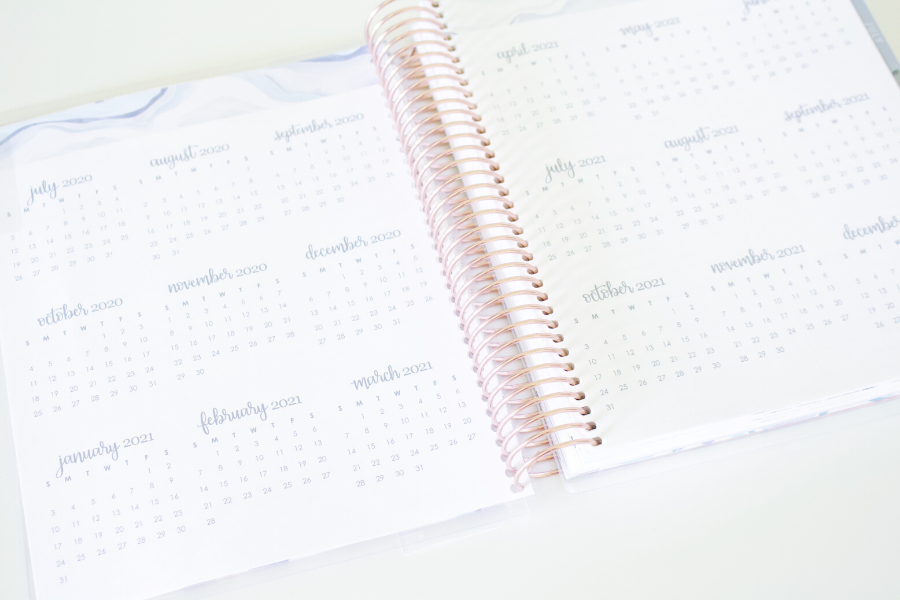 In the front of the planner, you'll find a yearly overview, which definitely comes in handy for future planning. Although my planner only goes from July 2020 to June 2021, the spread goes all the way through December 2021.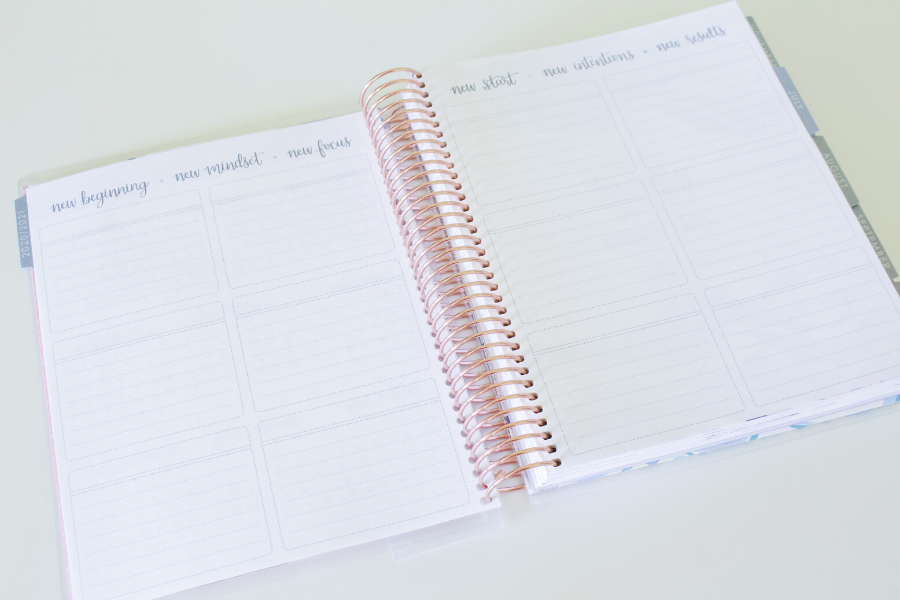 One of my favorite features of the planner is the spread pictured above. It includes 12 lined boxes for you to do with as you please. I love to use these pages for planning my monthly goals since there's the perfect amount of space for it.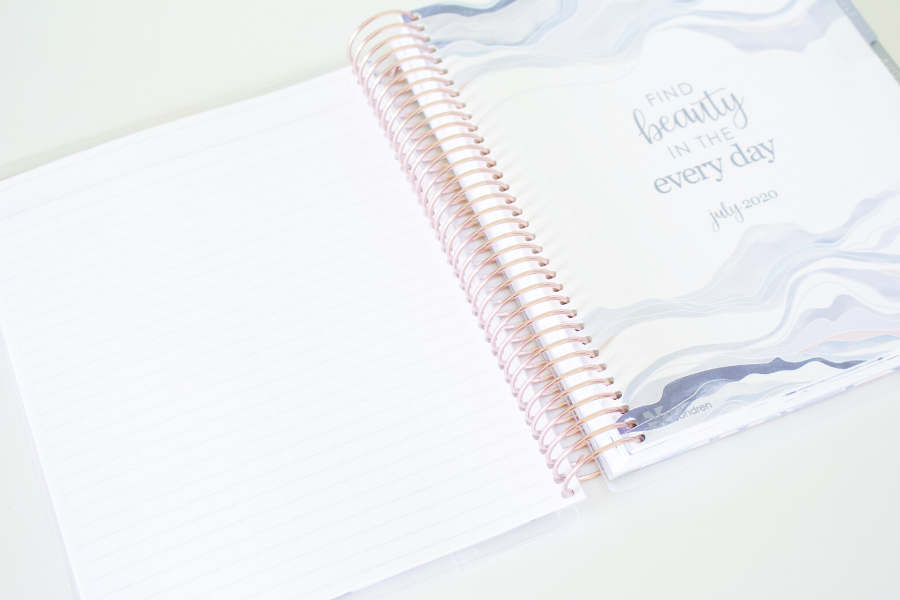 At the beginning of each month inside the planner, you will find a lined page opposite an inspirational quote. The quote pages are something the Erin Condren LifePlanner is known for, so I hope you appreciate the added motivation they can provide.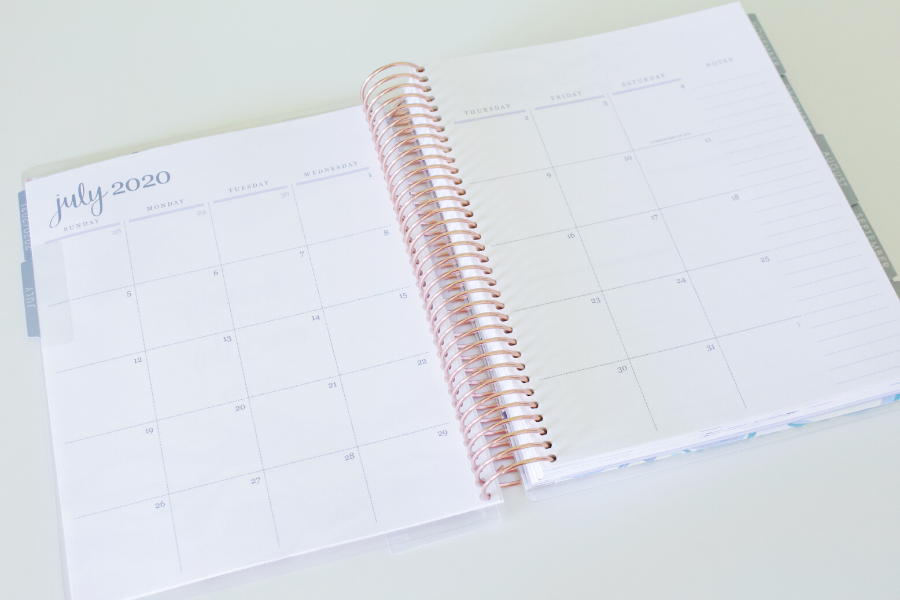 The next page shows the monthly overview. With the neutral colorway, you can expect to see a simpler layout as shown above. On the right-hand side, there's also space to jot down notes, goals, important dates, or anything else you'd like to record.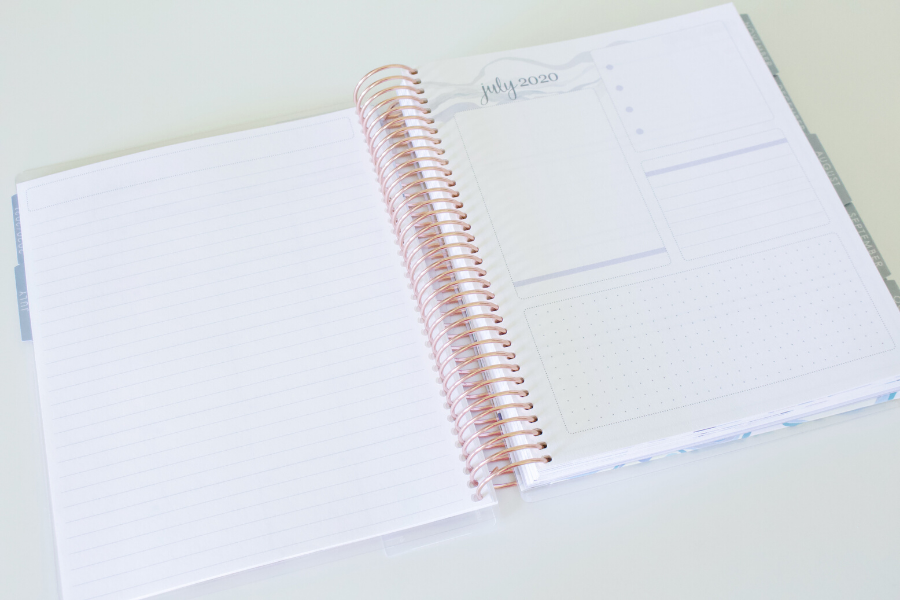 Flip the page and you'll see this spread, which features another fully lined page for all your note-taking and brainstorming. On the right, you'll find a blank box, a bulleted box, a small lined box, and a dotted box. I've always used the bulleted box to write my goals for the month. And I would often used the dotted box to draw a habit tracker.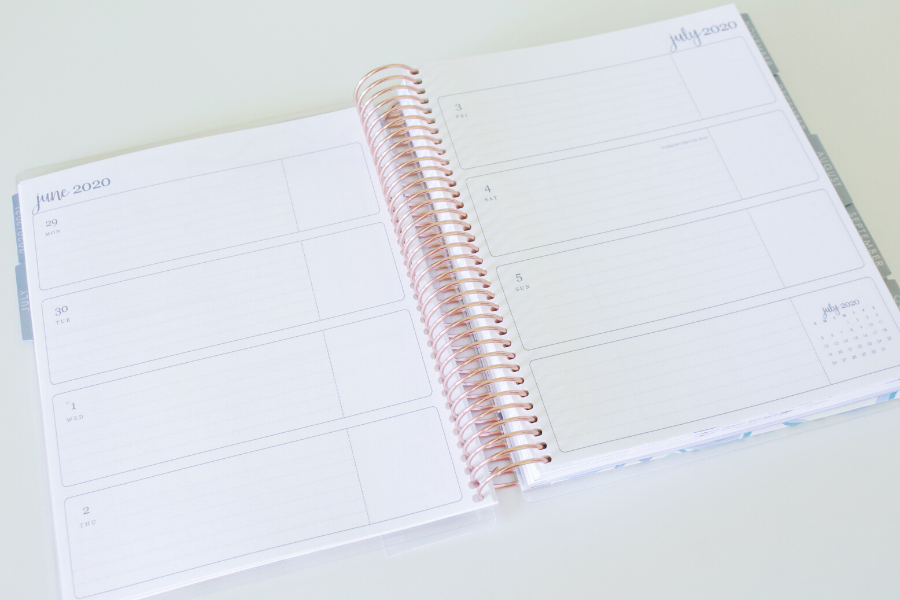 The horizontal layout features Monday through Thursday on the left page, while Friday through Sunday are on the right. At the bottom of the right page, there's a lined box for recording additional things and a small calendar for the month you're in.

With the Erin Condren LifePlanner neutral colorway, this spread is pretty simple. If you choose the colorful option, there would be designs at the top of the page, as well as shading in the unlined box.

Towards the back of the planner, you'll find sections for notes and contacts. The notes section features 11 lined pages for you to use. Personally, I'm bummed they didn't include the coloring pages that were in planners from previous years. And I also don't use the contacts page.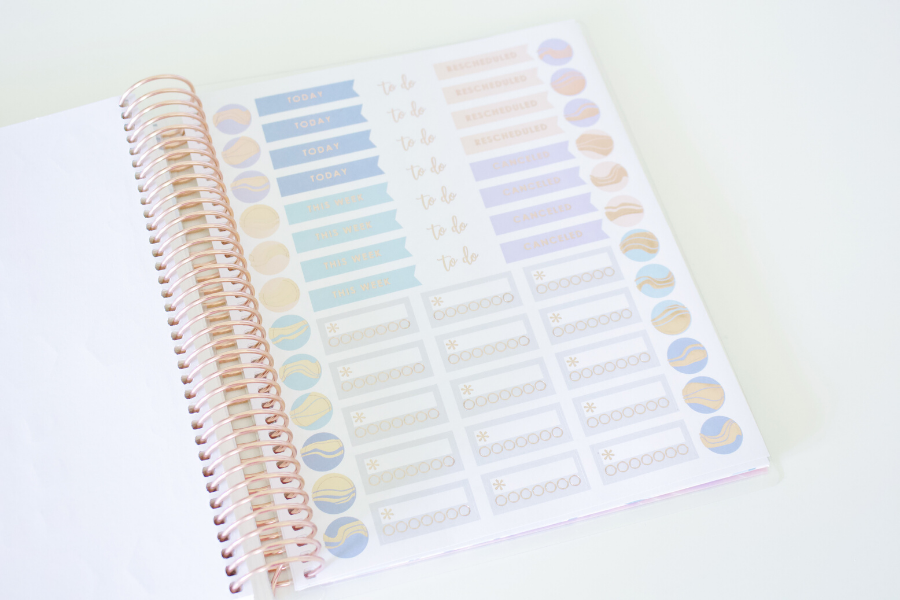 If you're like me and love to plan with stickers, you'll enjoy the four sticker pages that are included in every planner. There are flags, habit trackers, labels, and more.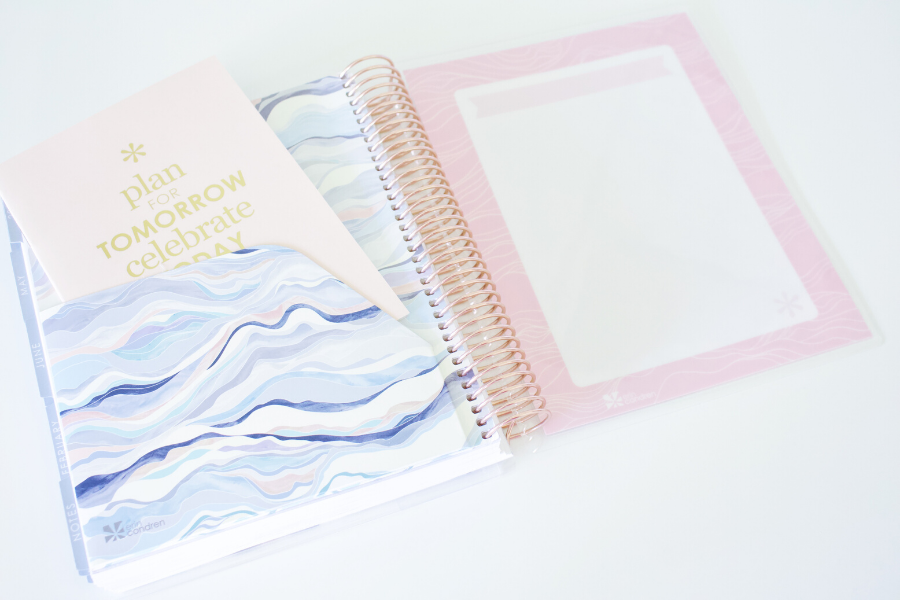 After the sticker pages, there's a two-sided folder for storing your extra stickers and anything else you want to save inside your Erin Condren LifePlanner. There's also the perpetual calendar for recording any important dates you don't want to forget.

And of course, the inside of the back cover has the blank space for writing with a wet erase marker. You can order those from Erin Condren as well!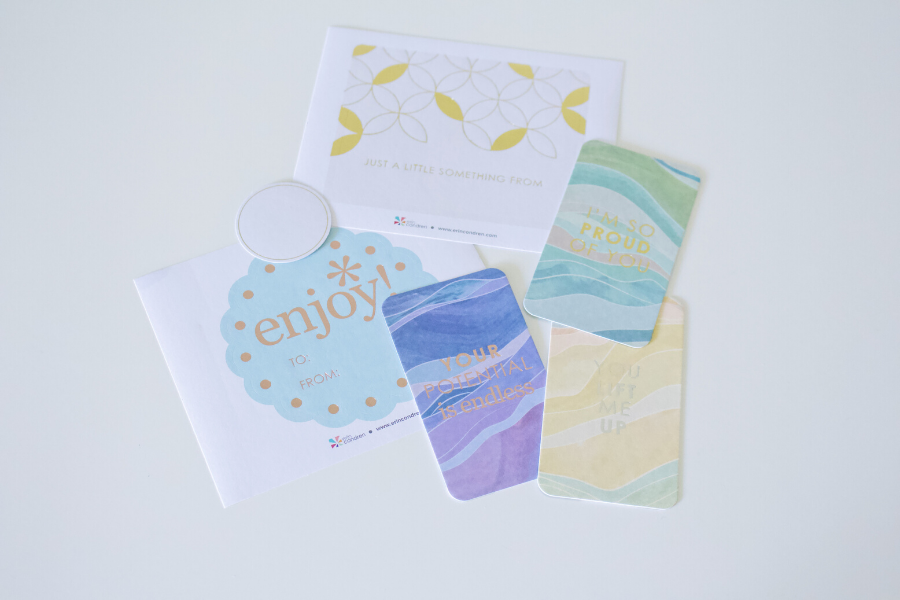 Sticking with tradition, there are always a few freebies with every LifePlanner order. This year, you will find two gift labels, three compliment cards, and a circular label for the box your planner came in.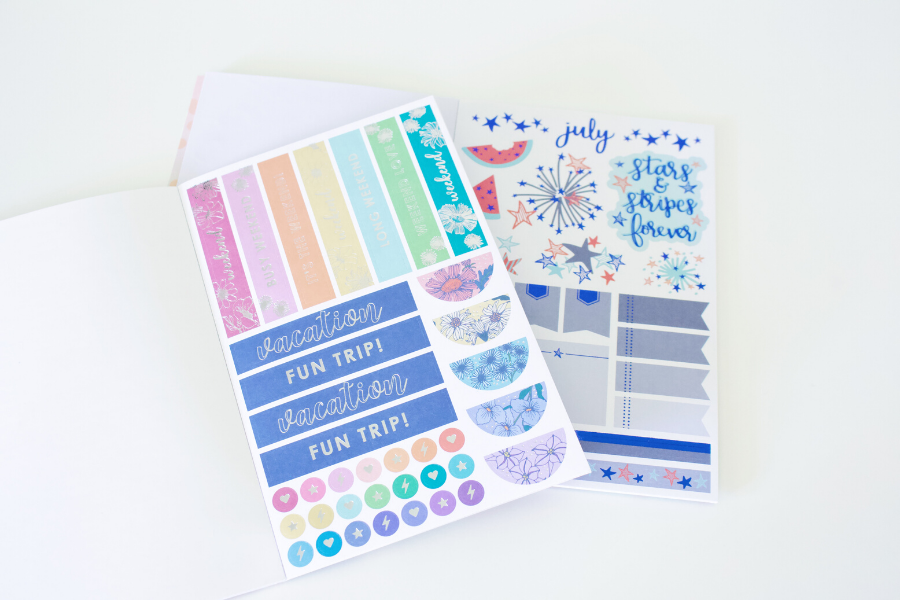 This year, I didn't go too crazy with ordering extra things. I did snag a new snap-in dashboard that matched this year's theme. Besides that, I just ordered a couple sticker books. I got the Designer Sticker Book in the flower theme, as well as the Monthly Collection Edition 5.
As always, I'm incredibly pleased with my new Erin Condren LifePlanner. Not only are these planners gorgeous, but they'll absolutely help you get all your planning done. And when paired with accessories like the Snap-In StylizedSticky Notes and wet erase dashboards, it's really everything you need to be the most effective planner ever.
Don't forget! Make sure you shop through my link to save $10 on your first Erin Condren purchase!