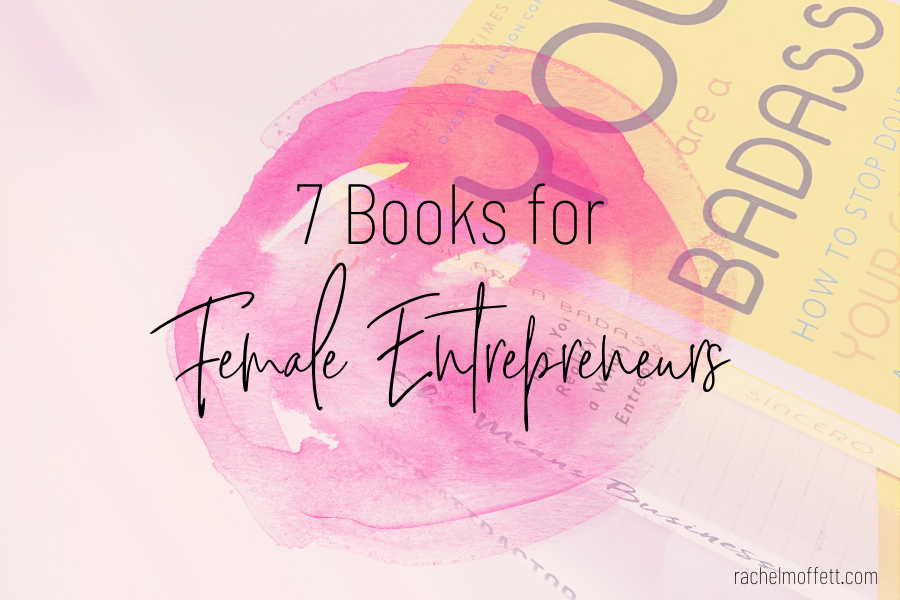 This post contains affiliate links, which means I make a small commission from your purchase.
But hey, it's a simple way to support your favorite creators!
Searching for something new to read that will not only nourish your mind, but your soul as well? Then you're in the right place! I'm sharing seven of my favorite books for female entrepreneurs that will help you work on both your mindset and your business.

Why both? Because I believe that you can follow all the top business advice from experts around the world… But if your mindset isn't in the right place, you'll still struggle to see the results you want. Luckily, this is a selection of books that will address both!
7 Books for Female Entrepreneurs
From mindset to manifestation, connecting with your audience, and transforming your marketing, these books for female entrepreneurs have a lot to offer!
1. Super Attractor by Gabby Bernstein
The first mindset book I want to recommend is Gabby Bernstein's Super Attractor. I have read a number of Gabby's books and I've been following her for many years. I'm a big fan of her work!

Super Attractor is one of my favorites because it's such an essential, easy-to-follow guide on manifestation. And I'm a firm believer that manifestation plays a huge role in the ultimate success of your business. I'm all about setting goals and visualizing them, whether that's with the help of my vision board or my daily journaling practice.

In this book, Gabby talks about living a life of happiness, purpose, and freedom. And she even talks about how to tap into abundance, which is something I know we all want! One of my favorite things from this book is the Emotional Guidance Scale, which is a great guide to moving out of a low-vibrational state, which as we all know, you can't be in if you want to attract your desires.
2. You Are a Badass by Jen Sincero
Personally, I felt that Jen Sincero's You Are a Badass provided a much-needed boost of motivation. I loved reading about Jen's story of becoming a success coach because she really is proof that you don't need to have your life perfectly together in order to help others. And that's something I know many of my own clients have struggled with.

In this book, which is the first of the Badass series, Jen talks about the mindset work needed to create success and attract abundance. If you're someone who really needs that extra dose of inspiration and has limiting beliefs to work on, this is one of my top books for female entrepreneurs. Plus, it's such a quick and easy read!
3. Get Rich, Lucky Bitch by Denise Duffield-Thomas
So, I actually read Get Rich, Lucky Bitch by Denise Duffield-Thomas back in 2014. I'm pretty sure it was the first money mindset book I ever read. And let me tell you, the teachings in that book have stuck with me all these years. I took so many notes reading this book!

Since I initially read it, the book has actually been completely updated, but I still highly recommend it. It's perfect if you want to transform the way you think and feel about money. And you'll also learn how to effortlessly manifest it into your life.

The reason it's on my list of books for female entrepreneurs is because your mindset around money is crucial in business. If you have negative feelings about money, you're going to repel it, not attract it. Luckily, with Denise's help, you can identify your money blocks. And she also provides practical strategies to overcome them, whether you're dealing with guilt, shame, feeling unworthy of having money, or something else.

P.S. I have plenty of posts on manifesting money for you as well!
4. She Means Business by Carrie Green
If you're looking for something that's a combination of business strategy and mindset, She Means Business by Carrie Green is a great book to consider. When it comes to mindset, Carrie covers self-doubt, overcoming resistance, asking the Universe for what you want, and so much more. And on the business side of things, she discusses uncovering your mission, engaging with your audience, comparing yourself to others, and a number of other topics.

Not to mention, there are so many inspirational chapters where Carrie shares her story and powerful words of encouragement. But one of the best parts? There's a 28-day She Means Business Challenge to actually put what you've read to work.
5. The Thank You Economy by Gary Vaynerchuk
Moving into full-on business books for female entrepreneurs, I'd like to introduce you to Gary Vaynerchuk's The Thank You Economy. Even though it was published in 2011, the overall message of the book is still relevant today. Gary calls for business owners to really step up their customer service experience to deliver personal, one-on-one attention to their audience. After all, being successful starts with caring about your customers and building a trusting relationship with them. This books tells you how to do just that.
6. Building a StoryBrand: Clarify Your Message So Customers Will Listen by Donald Miller
Next up is a book that came highly recommend from a business friend of mine. Building a StoryBrand by Donald Miller is a must if you want to better connect with your audience. Donald teaches how to better convey the benefits of your offering so you can create strong messaging that appeals to and attracts clients. It'll definitely make it easier for you to comfortably and confidently talk about your business with others. And it's all thanks to learning the seven universal story points that people respond to. But please, don't forget to actually take action on what you read if you want to see results!
7. Killing Marketing: How Innovative Businesses Are Turning Marketing Cost Into Profit by Joe Pulizzi & Robert Rose
Creating content is a huge part of running a business, which is why I had to include Killing Marketing by Joe Pulizzi and Robert Rose on this list of books for female entrepreneurs. This book is going to change the way you craft your content strategy. And it just might lead to an increase in revenue and more engaged, loyal customers.

This book covers a variety of topics, including best practices for attracting and keeping an audience, how to transform your marketing operation into a media company, and more. You'll be encouraged to put your content front and center as the shining star of your business.