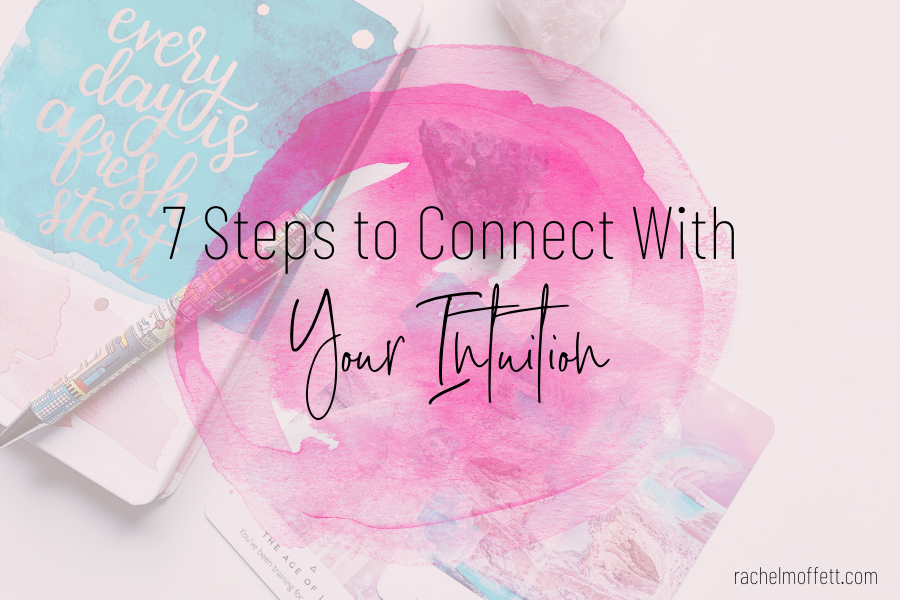 Do you take the time to connect with your intuition when it comes to your business?

If not, you should be! It can actually be pretty transformative in how you're showing up as a business owner, as well as which action steps you take.

To get started, I'm sharing seven helpful steps so you can tap into your intuition. These are all things I do regularly myself, so I know how helpful they can be.
7 Steps to Connect With Your Intuition
When you connect with your intuition, you can begin to tap into receiving guidance. Guidance regarding the next step you need to take or big decisions you're making. Here's how you can do that:
1. Just Pause & Listen
This is the first (and most important) step you need to know. Your intuition could be trying to send you an important message right now, but you need to make sure you're tuned in if you want to receive it.

You see, our minds are constantly racing with thoughts about so many different things. And if we don't take the time to just pause, quiet the mind, and listen, we'll miss out. Simply having a few minutes of quiet time in the morning can make a big difference.
2. Notice Feelings That Pop Up
You know those gut feelings you get from time to time where you're being urged to do (or not do) something? That's your intuition trying to get in touch with you. Pay close attention to those feelings and what message it may be sending you.

There are also other physical responses to be on the lookout for. Besides that gut feeling, you might notice goosebumps on the skin, a shiver down your spine, or your heart might start racing. The more in tune you are with your body, the more you'll begin to notice even the most subtle shifts when your intuition is trying to talk to you.
3. Meditate Regularly
One great way to have the quiet time needed to connect with your intuition is meditation. Taking just a few minutes to meditate either in the morning or evening can make a huge difference.

There are plenty of great meditations on YouTube or you can use an app to provide soothing music. (I love Insight Timer for this!) Before you begin, you can ask a specific question that you want an answer to or you can just begin meditating and trust the right message will be delivered.
4. Use Journaling to Get Your Thoughts Onto Paper
Journaling is another great tactic because you can just let all of your thoughts and feelings flow out onto paper. Although my favorite way to journal is a technique called scripting, I also love to just ask for guidance and write down whatever comes up. Super simple, but it works! Plus, having everything written down makes it easier to sort through your thoughts and the messages you receive.
5. Spend Time Outside
One of the best things you can do for the mind and body is to spend time outside. That's why it's an essential step in helping you connect with your intuition. Being outside gives you such a grounded feeling. It's also the perfect opportunity to quiet the mind and open yourself up to receiving guidance from a higher source.

Your outdoor time could include going for walks, having a morning journaling session on your deck, or enjoying a sunset dinner outside. It's also nice to take off your shoes and walk through the grass, a practice known as grounding.
6. Use Tarot Cards or Crystals in Your Daily Life
There's no shame in using a few tools to help you better connect with your intuition in your everyday life. And two things that can really assist you with this are tarot or oracle cards, as well as crystals.

I love pulling a tarot card at the start of my day. Not only does it help me to strengthen my tarot skills, but it also provides guidance and allows me to tap into my true feelings. The Wild Unknown Tarot Deck (affiliate link) is my favorite.

And you can start building your collection of intuition-boosting crystals. Some great ones to have are clear quartz, amethyst, moss agate, and labradorite. Try meditating with the crystal of your choice placed directly over your third eye chakra.
7. Take Action on the Messages You Receive
And finally, when you do receive a message from your intuition, make sure you act on it. After all, the Universe rewards those who take action and make progress toward achieving their goals. Your intuition is the same. And this will open you up to receiving more guidance in the future.