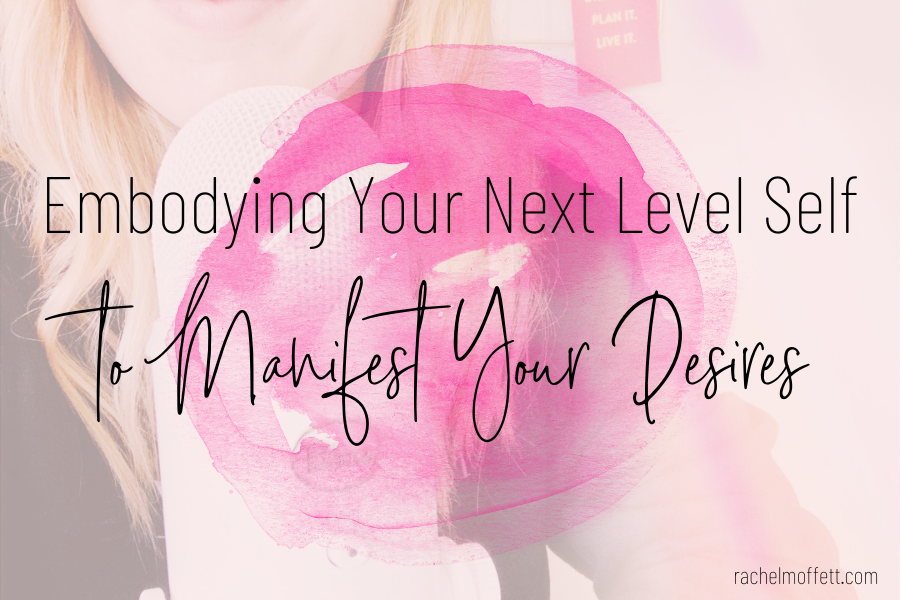 You've probably heard people talk about the importance of embodying your next level self.

They say it's the key to manifesting everything you desire. And it is a huge part of the process.

But what exactly does it meant to step into the next level version of yourself? What do you need to do in order to become that person and also, how does this work when it comes to manifestation?

That's exactly what I talked about in this episode of the Manifestation Happy Hour podcast!
You can listen to the episode above, on Apple Podcasts, or Spotify. Or if you prefer, read on for a summary of the tips shared in this episode.
What Embodying Your Next Level Self Means
Your next level self is the version of you who has already accomplished the things you're currently dreaming about. She's hit those goals, she's made the money, and she's created the success you desire. However, there are some differences between who you are now and who you need to become in order to live your dream life.

That future version of you thinks and shows up differently. She makes decisions from a different mindset. She even has different characteristics, routines, and habits.

When you can identify those differences, you're then able to start incorporating those things into your everyday life. Embodying your next level self requires you to take on the traits she has, while also thinking the way she does, and doing the things she does. After all, the key to your success is operating from a place where you already have it.
Why This Works for Manifestation
If you're familiar with the Law of Attraction, you know you need to become an energetic match for the things you want to manifest. You need to vibrate on the same frequency as those things. By embodying your next level self, you are showing up and living life from a place where you know your success is a done deal. It signals to the Universe that you're open and ready to receive because you are the version of you who already has it all. Then, the Universe has no choice but to deliver it.
How to Begin Embodying Your Next Level Self
Stepping into this version of yourself requires a few key things. To help you tap into this energy, you'll want to look at personality traits, physical characteristics, and more.
Embracing Your Positive Traits
The first step in embodying your next level self is determining which characteristics that version of you has that you're currently suppressing. It's all inside of you right now, but it's just buried beneath the surface so you need to do a little digging to help it shine through. To help you do that, answer these questions:
When you think about who you currently are, how would you describe yourself?
How would you describe the version of you who is successful and abundant?
As you do this, make note of any differences between who you are now and who you need to become. Maybe you need to be more confident. Perhaps you need to be more of a bold action-taker. Or it could be that you just need to believe in yourself a little more.

Then, you need to ask yourself how you can start taking on those characteristics now.
Here's an Example From My Life
For me, I knew that my next level self was super confident. She effortlessly put herself out there without second guessing or worrying what others would think. But in my currently reality, I would always question my work and doubt myself. It was clear that I wasn't confident enough in who I was, but I needed to change that in order to create the success I wanted.

So, I turned to hypnosis to help boost my confidence. I recorded a hypnosis track specifically for this so I could reprogram my mindset and trust in myself a little more. In fact, I even made this self-confidence hypnosis available for all of you in case you're feeling the same.
Releasing Beliefs That Aren't in Alignment
A huge part of embodying your next level self is releasing the limiting beliefs that are currently holding you back from living your dream life. Often there are things on a much deeper level that prevent us from showing up in the way we want… Preventing us from creating the success we desire and earning the money we deserve. Releasing those beliefs helps to eliminate any obstacles that are standing in your way. Because guess what? Next level you doesn't let a negative mindset hold her back!

If you know you have limiting beliefs to work on, check out episode two of the podcast: Identifying & Releasing Limiting Beliefs Around Your Goals.
Physically Stepping Into This Version of You
Communication is made up of three components. There's our words, which is 7% of our communication, tonality which is 38%, and physiology which is 55%. Physiology includes things like posture, gestures, and facial expressions. It can actually play a big role in your ultimate success.

Neuro-Linguistic Programming is built upon the process of modeling. In modeling, we elicit various things like strategies and physiology to then allow someone to produce a certain behavior. So essentially, you can model success based on what you've learned from others. In this case, when you think about the physiology of a successful person, you probably think of her as standing or sitting up straight, head held high, and a smile on her face. In fact, go ahead and adjust yourself to being in that physiology right now. Sit up straight, put your shoulders back, and just smile. And I'm sure you'll notice an immediate shift in how you feel, especially if you're moving from a position where you were previously slumped over and frowning.

The point of this is to make sure you're carrying yourself just like your next level self would. You are going about your day feeling confident and you're communicating that to the world through your posture and facial expressions.
Dressing & Styling Yourself as She Does
Another way of embodying your next level self is to consider how she dresses. Does she wear workout clothes to sit down and tackle her to-do list each day? If she does, that's fine! But what if she doesn't dress that way and that's how you're currently showing up to work on your business tasks? Then it's creating a disconnect between who you are and who you need to become to manifest your desires.

You'll even want to think about how she does her hair and makeup. Does she take the time to style her hair every morning, meanwhile you're always rocking the messy bun? Is a bold lipstick her go-to, but you're currently afraid to wear one?

It's all about noting the differences in how you show up in your everyday life. Then, you can start dressing, styling your hair, and doing your makeup in the way she does in order to tap into her energy. Plus, if you're anything like me, you probably feel 100% more productive on the days you get properly dressed and ready for the day. It changes everything!
Developing Routines & Habits to Cultivate Your Dream Life
When you think about your dream life, you probably envision it looking a bit different than your current reality. You may see the future version of you taking on new habits or incorporating specific routines into her daily life. But the question to ask yourself is… Why can't you start adding some of those things to your day right now? I mean, there's really nothing stopping you.

As we know, embodying your next level self and doing the things she does will help you become an energetic match for this version of your life. And that will help you manifest it into reality. So, if you're living your life as you imagine it to be when you're successful, the Universe will have no choice but to bring it to you.
Daily Routines
What kind of routines will your next level self incorporate into her daily life? Maybe she has a set morning routine to jumpstart each day. Or perhaps she has an evening routine to help her unwind before bed. You can plan out those routines and start making time for them in your life right now. After all, there's really no excuse not to! If you're serious about up-leveling your life, you'll prioritize it.
Daily Habits
Next, consider what next level you considers to be a non-negotiable in her life. What are the things she must be, do, and have? Her habits could include things like meditation, journaling, yoga, reading a new book, etc. These are all very simple things you can start doing without spending any money to make it happen.
Make Decisions as Your Next Level Self
Take a moment and imagine what life would look like when you have achieved your biggest goals. What did you have to do to get there? What choices did you have to make? And what risks did you take? Allow yourself to be guided to the answers.

Take this divine guidance you receive and begin taking action to help you get closer and closer to your desired reality.

Part of embodying your next level self is making decisions and showing up from this version of you. Create content and offerings from this place. Show up on social media and serve your audience from this place. Even make investments from this place. Whenever you feel stuck, ask what your next level self would do in the same situation.