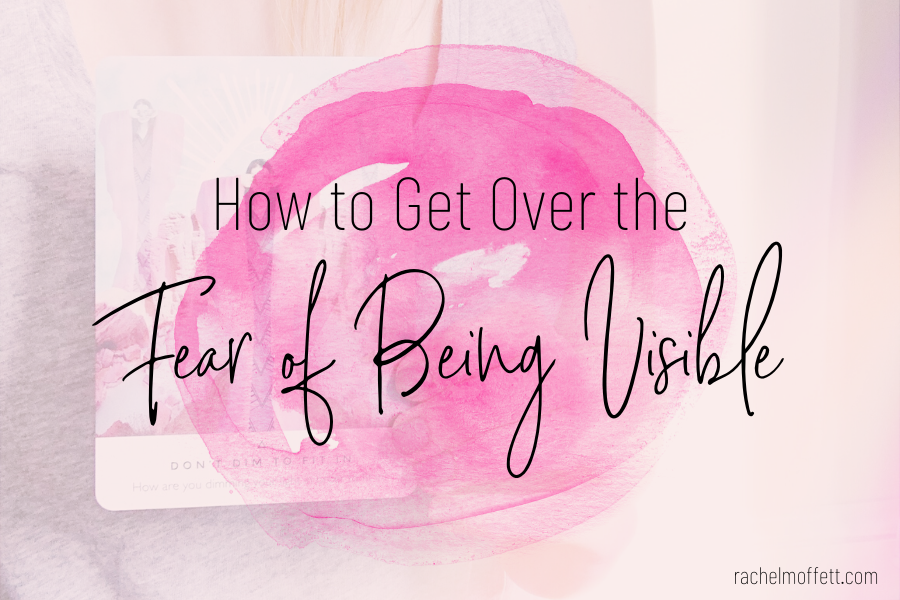 Struggling with a fear of being visible online? Yeah, you definitely aren't alone! I've been afraid of putting myself out there because I was terrified of being judged. But guess what? You're only holding yourself back.

And you simply cannot do that if you want to create success in your business! Because, guess what? Being visible is a huge part of growing your brand and landing clients.

If you want to become that gal who shows up easily and effortlessly every single day… The girl who just oozes so much confidence that she doesn't think twice about putting herself out there… Then you need to read this!
First, What Causes the Fear of Being Visible?
What's causing your fears could be any number of things or maybe even a combination of a few things. It's important that you get to the bottom of the issue because that's going to help you address it from the inside out. And that's key if you want lasting results!

The first possibility is that you may be dealing with imposter syndrome. This will leave you feeling inadequate and like everyone else is better than you and knows more than you do. And if you show up online, you might worry that people will think you're a fraud.

Another potential cause of your fear of being visible online is comparison. With social media, it's so easy to get caught up in what everyone else is doing and the successes they've had. It can leave you feeling like you aren't good enough. It may even make you feel like they're lightyears ahead of you and there's no way you can catch up to them.

And finally, it could even just be a fear of failure. Sometimes we get so afraid that things won't work out, that we hold ourselves back from going after what we want. After all, if we don't try, we think we can't possibly face rejection or failure. No one wants to put in all the hard work only for their business to flop. But going after your dreams is even scarier than putting yourself out there!
How to Get Over the Fear of Being Visible
To help you overcome your fears, there are a few things you can do to increase your confidence and show up with ease. Here's what you need to know:
1. Be Honest About What You're Afraid Of
First and foremost, you have to address the root cause of your fears. If you don't, it's just going to keep coming back to haunt you again and again. Not cool!

That's why you need to think over the common fears I mentioned above. Are you struggling with imposter syndrome? Have you fallen into the comparison trap? Or are you just afraid of failing?

Whatever the fear is, I'd suggest journaling on it. Ask yourself why you're so afraid to show up online and put yourself out there. What's really standing in your way? And is that actually a legit concern?

Are people really going to judge you? Probably, but even the most successful people have haters and deal with criticism. But do you actually care about what those people have to say? You shouldn't!

Is is true that you aren't good enough? Of course not! You are capable of achieving anything you want. So, stop letting all these crap beliefs take over your life!
2. Rewrite Your Fears Into Positive Affirmations
To get over the fear of being visible online, I want you to turn all the negatives into positives. To do that, take any fears you have and rewrite them into positive affirmations that you can read at the start of each day.

Let's say your fear of showing up stems from worrying about being judged by others. To counteract this, say something like: What matters is that I'm proud of my work and I am proud of it. The work I do makes a difference in the world. I trust in myself and my abilities and I confidently pursue my dreams.

Feeling like you aren't good enough? You could say: I am smart, skilled, and capable of achieving my goals. My dream clients love me and are happy to pay me. I have everything I need to succeed.

Once you've compiled a list of your favorite affirmations, make time to recite them every single day. Speak these affirmations aloud and feel them as being true. Visualize what your life would be like once everything has manifested.
Another great way to boost your self-confidence? Download my free 10-minute hypnosis and start your day with it each morning! It'll really transform how you feel!
3. Make Learning a Priority
If your fear of being visible online ultimately results from feeling like you aren't good enough, here are two things for you… First, remember that you are good enough. Second, prioritize your education. After all, each one of us has room for improvement.

Invest in your knowledge by reading books, taking courses, and working with a coach. This way, you'll have a wealth of knowledge to put back into your business and to share with others.
4. Practice Showing Up Every Day
In order to feel more confident when it comes to putting yourself out there online, it's gonna take some practice. You aren't going to be this Instagram Story, Facebook Live maven overnight. It'll take you some time to get comfortable with everything.

Set a goal for yourself. For example, maybe you want to do an Instagram Live every week, but it scares you right now. Commit to that goal and even increase it over time to gain practice. The more you do it, the less scary it'll seem. And remember that it doesn't have to be perfect.
5. Focus on the Value, Rather Than the Sale
Sometimes our fear of being visible hits us like a ton of bricks when it comes time to promoting our offerings. But hey, you need to speak about your products and service if you want to make money!

If selling freaks you out, focus on the value your offering provides. There are people out there who need what you have to offer. It's going to be life-changing for them and they'll happily pay you. Remember that.
6. Accept That You Aren't for Everyone
And finally, I hate to break it to you, but… Everyone isn't going to like you. That's just the way it is! Instead of worrying about making everyone like you, focus on liking yourself. When you like who you are, you can confidently and effortlessly put yourself out there. And that fear of being visible online? Yeah, it'll fade away.