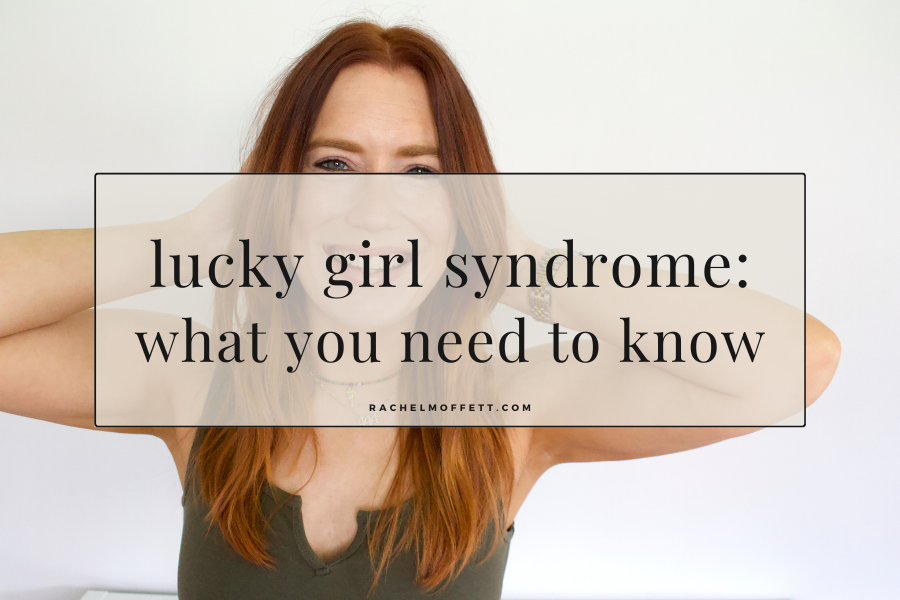 By now, you've probably seen the viral TikTok. You know the one… The two girls eating noodles in their car while talking about "Lucky Girl Syndrome."

In the video, they shared how they noticed positive changes in their lives by simply affirming that everything works out for them. Sounds simple enough, right? However, it's likely left many of you questioning how Lucky Girl Syndrome works and how you can adopt this mentality.

In this article, I'm breaking down this "trend" and giving you the inside scoop so you can also become a truly lucky girl (or guy). Let's dive in!
The Origins of Lucky Girl Syndrome
As mentioned above, the Lucky Girl Syndrome trend really went viral thanks to those two girls on TikTok. Since their video was posted, tons of major news outlets have published articles on the topic, including The Washington Post. Since then, #luckygirlsyndrome has received more than 206 million views on TikTok and it's steadily increasing.

Although these girls brought a lot of awareness to this mentality, it didn't originate with them. It's already been reported that other creators were posting about Lucky Girl Syndrome long before the two girls shared their video. And it's really unclear who actually coined the term.

However, it's worth noting that this whole Lucky Girl mentality is deeply rooted in manifestation, which has been taught for centuries. You can absolutely connect it back to the Law of Attraction. But personally, I think it's better tied to the Law of Assumption and the teachings of Neville Goddard. And if you read Neville's works, you'll discover that he strongly believed the Bible actually taught manifestation. So, this premise is older than you may have realized!
What is Lucky Girl Syndrome?
Lucky Girl Syndrome is all about shifting how you view the world. The girls that popularized this mentality chose to repeat an affirmation along the lines of, "Everything works out for me." In doing so, it essentially made them a magnet for positive things to come into their lives.

Let me explain how this is connected to the world of manifestation. With the Law of Attraction, you want to raise your energetic frequency and become a vibrational match for the things you desire to manifest into your life. If you choose to go about your everyday life with this positive Lucky Girl mentality, you'll attract and experience positive things.

The Law of Assumption, however, doesn't discuss frequencies and vibrations. It's all about attracting things into your life based on your assumptions. If you have this assumption that you're lucky and that everything works out for you, that's what you'll experience.

You could also explain this from a neuroscience perspective. If you wake up every morning with the expectation that something great is about to happen, it will create a bias in your Reticular Activating System. Then, you'll consciously perceive more great things throughout the day.

All of this to say, when you go about life believing that you're lucky, you'll find proof of it.
How to Adopt the Lucky Girl Mentality
The premise of Lucky Girl Syndrome certainly sounds amazing. But I know it can also feel rather impossible, especially if you've never felt lucky before in your life. After all, these girls are simply repeating a mantra or an affirmation to themselves and watching their lives change. Could it really be that easy to create massive shifts and manifest a dream life?

Well, that depends on who you ask and what lies within your subconscious mind.

Many Law of Assumption coaches believe that repeating affirmations is all you need to do in order to manifest what you want. They feel the simple act of repetitively saying or thinking a phrase is enough to impress the subconscious mind with your desire. Therefore, it will then manifest into your 3D world. Have I seen this work in my life? Absolutely. However, not everyone believes affirmations are effective. Others prefer visualization, for example.

But what I will say is this… If you have negative programming that is running on a loop in your subconscious mind, it can be hard to simply undo that. If you're merely relying on affirmations to reprogram your subconscious and rewrite negative thought patterns, it's going to take time. Instead, it would be better to speed up the process by using tools like Neuro-Linguistic Programming, EFT, and hypnosis.
Lucky Girl Syndrome Affirmations You Can Use
If you're wanting to adopt this lucky girl mentality, here are a few affirmations to try:
I'm so lucky that everything works out for me. (My personal favorite.)
Everything is rigged in my favor.
I attract miracles into my life on a daily basis.
Things always turn out better than expected.
My life is filled with so many blessings.
But wait! How do you actually incorporate affirmations into your everyday life? The easiest way is to simply repeat the affirmations in your mind throughout the day. If you're alone, you can also say them out loud. However, there's also a way you can supercharge them.

You can more easily impress your affirmations onto the subconscious mind when your brain is in the more relaxed, theta wave state. When does this happen? As you're drifting off to sleep and when you first wake up in the morning. Now, it might be hard to remember to say your affirmations during these times. So, an alternative is to use an app like ThinkUp and play them on a loop all night. I have seen amazing shifts from doing this!
But is This Just Toxic Positivity?
Everyone is going to have their own opinion on this one, but my answer is no. Having studied the Law of Attraction for many years now, I have seen firsthand the benefits of going about life with a positive attitude.

Does this mean I'm positive 100% of the time? No, absolutely not. That isn't realistic. I have bad days and go through funks just like anyone else. I've experienced anxiety and depression as well. And it's my personal belief that you don't have to allow negativity to throw you off course, particularly when it comes to manifesting your dream life.

Instead, I choose to see Lucky Girl Syndrome as a reminder to make a conscious effort to select better feeling thoughts every single day. I see it as a reminder to look on the bright side and trust that everything always works out for my greater good. And I know that when I vibrate at such a frequency, I'll begin to see things shifting to create my desired 3D reality.

Want to become that lucky girl who seems to always get everything she wants? It's possible for you, too! You just need to shift your mindset! Inside The Manifestation Vault, you'll receive access to monthly masterclasses, coaching sessions, and resources that will help you shift your self-concept at the subconscious level. Join now for $44/month.