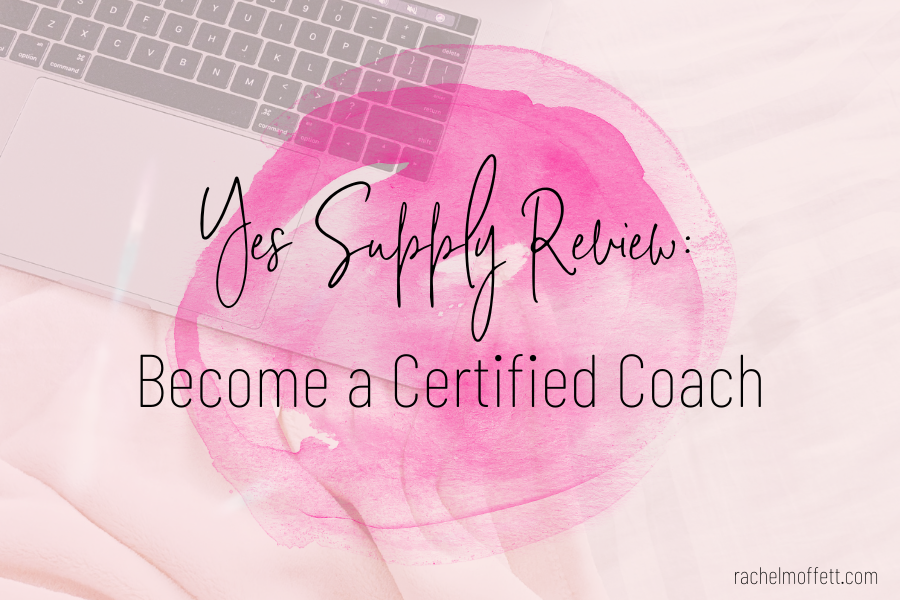 This post contains affiliate links, which means I make a commission off any sales.
In 2019, I made a decision that forever changed the scope of my business and my life.

At that time, I had been coaching for about four years and I was feeling called to change things up. And it's almost as if the Universe heard that call because it wasn't long after that I started seeing people online talk about YES SUPPLY, Reese Evans (the founder), and her coaching certification program.

Even though I had been following Reese for some time, I hadn't looked into this program before. But something was suddenly telling me that I needed to sign up. And in doing so, I not only changed my business, but myself. That's what I want to share in this YES SUPPLY review.
What is the YES SUPPLY Coaching Certification?
The YES SUPPLY coaching certification is a cutting-edge program designed to help you become a masterful mindset coach and an expert practitioner in modalities like Neural Energetic Wiring, Neural Energetic Encoding, Emotional Freedom Technique (EFT), and Hypnosis.

But YES SUPPLY is more than just a program — it's a supportive community that fosters growth and collaboration. Upon joining, you'll have access to a vibrant network of like-minded individuals and experienced mentors who will guide and encourage you on your coaching journey. This is partly through the engaging Facebook community, but also the live cohorts!

You can select a trainer and an upcoming cohort based on your schedule. This will keep you on track and ensure you complete the certification in a timely fashion. Plus, you'll have extra support from your trainer and other members of your cohort!

Now, let's dive into my YES SUPPLY review!
YES SUPPLY Review: My Experience
I can honestly say that I embarked on a life-changing journey by enrolling in the YES SUPPLY coaching certification program. When I added it to my virtual shopping cart, little did I know that it would be the catalyst for my personal growth and professional success.
What I Learned Inside the Coaching Certification Program
I want to preface this by saying the YES SUPPLY coaching certification has changed since I completed the program. However, as a past student, I have access to all of the new, updated content. And let me tell you, it still offers insane value and transformative teachings. I've been working through all of the new modules and can't wait to learn more. But let me talk a bit more about my journey to becoming a certified coach.

The program (in 2019) empowered me to become a certified Life and Success Coach and a Practitioner in Neuro-Linguistic Programming, Emotional Freedom Technique (EFT), TIME Techniques, and Clinical Hypnotherapy. Aside from EFT, all of this was new to me so I knew I was about to enter an entirely new world and expand my knowledge tremendously.

The comprehensive curriculum was thoughtfully designed, providing a blend of in-depth trainings and practical application. Through this, I gained a profound understanding of the human mind and learned powerful techniques to help myself and others achieve incredible transformations.

I learned how to identify limiting beliefs, reframe negative thought patterns, and cultivate a growth mindset. These skills have been instrumental not only in my coaching practice but also in my personal life, leading to greater self-awareness and confidence.

I enjoyed being part of this community so much that I was part of the crew for a live, online version of the certification in 2020! In doing so, I was able to further improve my skills while also connecting with new people that I'm still in touch with today.
How I Use What I Learned From YES SUPPLY
Since completing the YES SUPPLY coaching certification program, I have harnessed its invaluable knowledge to initiate profound transformations in both my personal and professional life. Armed with the tools to tackle limiting beliefs head-on, I have cultivated a growth mindset that propels me forward in pursuing my goals fearlessly.

As I work with clients, I draw upon what I've learned to unlock their hidden potential, helping them overcome their own limiting beliefs and achieve breakthroughs they once deemed impossible. With the mastery of Emotional Freedom Technique (EFT) and Hypnosis, I guide my clients through gentle yet powerful processes, facilitating emotional release and aligning them with their true potential.

The YES SUPPLY program has not only made me an exceptional mindset coach but has also instilled within me the confidence to create lasting positive change in the lives of those I serve.
Join the YES SUPPLY Coaching Certification
Whether you're a seasoned coach looking to elevate your practice or someone with a passion for helping others and seeking a rewarding career change, the YES SUPPLY Coaching Certification is your key to unlocking your full potential and becoming an exceptional mindset coach and transformational practitioner. Take the leap and join an upcoming cohort now.

Get details and sign up here!