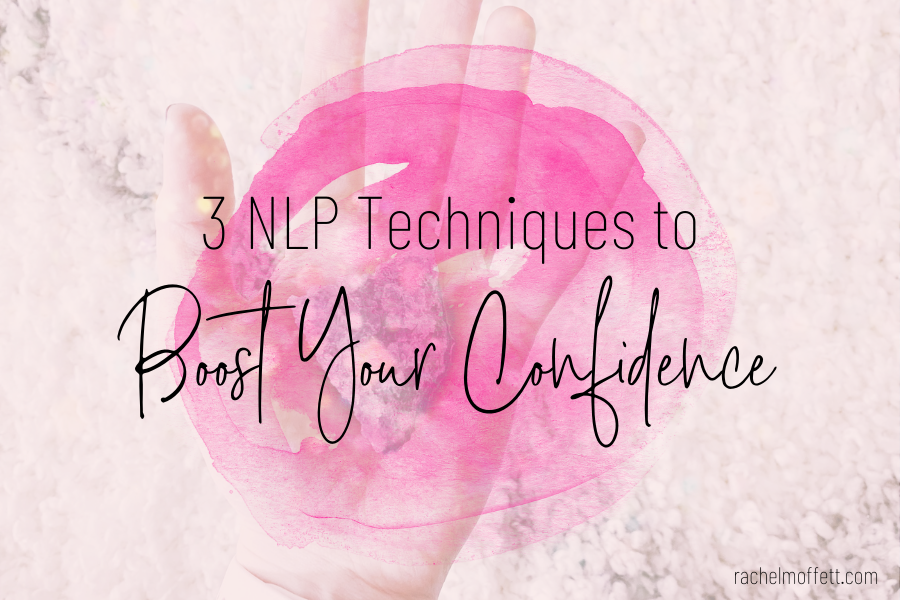 When I tell people that I'm a practitioner in Neuro-Linguistic Programming, they tend to wonder what on earth that means. But let me tell you, NLP techniques are some of the most powerful and effective tools when it comes to your mindset.
3 NLP Techniques to Boost Your Confidence
I definitely don't want you to go into a coaching call with an NLP practitioner without any clue what you might do together. So, I thought I would share a few of my favorite NLP techniques that I use most often when working with clients. This way, you have an idea of what to expect!
1. Single Belief Change
Hands down, Single Belief Change is my most used technique. I even do this on myself when my own limiting beliefs pop up! Because guess what? I'm not letting those low vibes stick around. Since I've seen how effective it is on myself, I love doing this with clients.

With this particular NLP technique, you are mapping across a series of beliefs. Basically, we're taking one belief (the limiting belief) and making it untrue. Then, we take the new belief you want to have instead and make that one true. Let's say you have a belief that you're not confident enough to create video content for your brand. Single Belief Change allows us to make that belief untrue and then help you step into the belief that you are confident.
2. Anchoring
What's so great about anchoring is that it allows you to feel any state or emotion any time you want. So, if there's ever a time that you're feeling down, you can elicit your anchor to make a shift. And you do this by associating a specific stimulus (like touching your knuckle) to those desired states. Stacking anchors is actually one of my favorite ways to do this.

With stacking anchors, you can tap into some really powerful and positive vibes by adding multiple states onto the same stimulus. On one of my knuckles, I have stacked feelings like confidence, abundance, and motivation. I know that whenever I need to shift quickly, I can just tap on that knuckle and feel myself embody all of those emotions.
3. Ring of Power
And finally, I had to include Ring of Power because it's one of the coolest NLP techniques you can experience. I actually feel like it works similar to anchoring, but without the physical anchor. Instead, you're tapping into those positive feelings like confidence and visualizing yourself stepping into a ring in front of you.

Much like stacking anchors, you can stack multiple states to this ring. Then, you can access those empowering feelings any time you want by seeing yourself step into the ring.

Want to experience NLP techniques like this for yourself? Let's hop on a coaching call! Together, we can identify what has been holding you back from living life as your most confident, next level self. Then, we can use NLP (or EFT, TIME Techniques™, or Clinical Hypnotherapy) to make the mindset shifts needed to boldly go after the life you want. Details here.