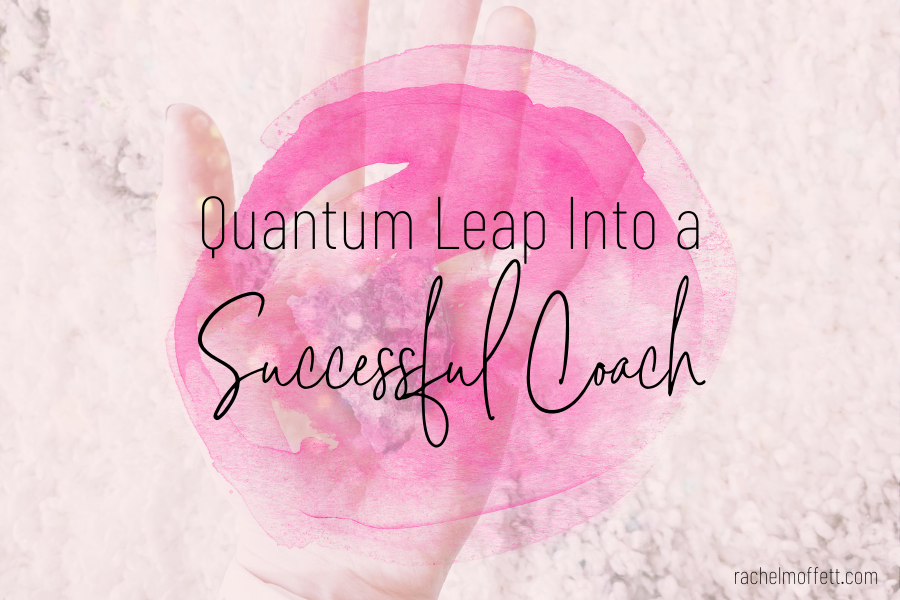 As a new coach, it can feel pretty intimidating getting started. But let's be honest here, if you're showing up nervous, scared, and doubting your abilities… It just might hold you back from creating the success you want.

People want to hire a coach that is confident and has plenty of value to add to their lives. So, how can you embody a successful coach when you're still in the early days of just getting started?
Quantum Leap Into a Successful Coach
Taking that leap into being the coach you've been dreaming about starts right now. Just follow the tips I've outlined in this post and see how things shift!
Embody Your Coach Identity Now
It doesn't matter if you're currently a successful coach or not… You can embody the feeling of being one right now. And no, that doesn't mean you need to go out and spend money like you have the bank account of someone with a profitable coaching business.

It just means you need to tap into some of the qualities of this version of you that's lingering inside, waiting to rise to the surface. When you embody this new version, you'll get into energetic alignment with the success you want to manifest, this helping you attract it into your reality.
What Does a Successful Coach Look Like to You?
So, I want you to take a moment and visualize what being a successful coach means to you. First, what does success look like in your world? Then, what will life be like once you've achieved your goals and created the life you want? This will help you figure out ways you can embody the coach version of yourself today.
What Habits Does She Have?
Is there anything in particular this version of you does and considers a non-negotiable? For instance, maybe she has a specific morning routine that she follows every day. Or she might prioritize things like planning ahead, reading at night, or attending a weekly yoga class. Once you figure out various habits that you'd take on as a successful coach, you can start to incorporate them into your routine now.
How Does She Present Herself?
When you think about this wildly abundant you, how do you picture yourself? She might get dressed in a proper outfit every day instead of a sports bra and leggings. Or she may take the time to do her hair and makeup instead of going makeup-free with her hair in a bun. This is different for each of us.

The key is to determine how your next-level you looks because those are easy things you can do right now. Not only that, but it's wise to take on the physiology of someone who is confident and ready to take action. That means standing up straight, not slumped over at her desk. Because the version of you who is a successful coach feels as though she owns the room and always walks in with her head held high.
How Does She Think?
When you're a successful coach, I guarantee you won't be thinking thoughts like… I'm never going to make it. I just can't book my ideal clients. I'll never make enough money doing this. So, do you really think it's serving you to believe those thoughts now? Definitely not!

Don't allow them to take up space in your mind. If a negativity thought comes up, push it out and replace it with something this new version of you would believe instead.
Know the Value You Have to Add to the World
If you're questioning how you can show up and serve your audience and whether or not you can create transformations in your clients' lives, something has to change. People aren't going to be inclined to work with you if you're full of self-doubt, feeling like you just aren't good enough to do this work and be paid for it.

Remind yourself that you have expertise people are willing to pay for. You have skills and knowledge that can be so beneficial for other people. Someone out there needs what you have to offer. Trust that. And put yourself into the world, trusting that you are more than capable of creating an abundant life as a coach.
See Yourself as a Leader Making Change
This tip goes hand-in-hand with embodying the version of you who is already a successful coach. But I feel like it needs to be mentioned separately to truly stress its importance. You need to see yourself as a leader in your industry. Visualize yourself showing up with confidence and adding value to your community. See yourself serving your clients and imagine how their lives will change after working with you. Sit in that feeling and let it fill you up.

Hey, you! I'd love to help you embody the version of yourself who is a successful coach that's booked out with dream clients and living a life of abundance. Check out my available coaching packages to see how we can work together to rewrite your limiting beliefs and more.