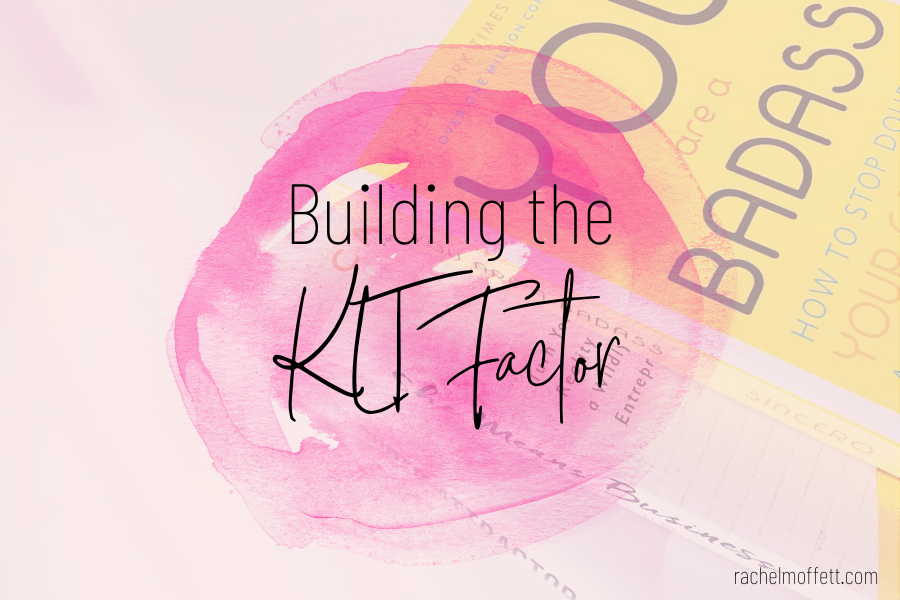 If you want to be successful in business, there's no way around it… You have to build the KLT Factor. But wait! What exactly is the KLT Factor?

Well, I'm glad you asked! It means the Know, Like, and Trust Factor. This essentially represents the journey that you need to take your audience on as they connect with your brand. First, they're in the discovery phase where they're just getting to know you and what you're all about. Then, they start liking you and maybe even become obsessed by binging on your content. From there, they begin to trust you.

That final factor, trust, is so crucial to your success. Without trust, you can't expect people to buy from you because people simply don't do business with those they don't trust.

Now you know what the Know, Like, and Trust Factor is… So, how exactly do you build it? That's what this post is going to cover for you!
Building the KLT Factor
The good news is, building the KLT Factor doesn't have to be overwhelming. The key is to take action at every stage of your audience's journey. And here's how to do it, step-by-step:
Help Your Audience Get to Know You
The foundation of the Know, Like, and Trust Factor is allowing your audience to get to know you on a deeper level. I want you to think about the "Know" stage as the foundation and the "Like" and "Trust" stages as the first and second story of this business-building house.

So, how can you help people get to know you better? Try these tips:
Share your story. When you open up and share your story, people get to know you on a much deeper level. That kind of emotion and vulnerability can really resonate with people, so don't be afraid to share why and how you got to where you are.
Have an updated About page on your website. When people first stumble upon your site, there's a good chance they'll head to your About page to learn more about you. Make sure there's a picture of you, as well as any details you'd like to share. Keep this page updated so it's always current for new visitors.
Be active on social media. This is the perfect place to just be yourself, have conversations, and make new connections. Instagram Stories is perfect for this because you can give people a glimpse into your daily life, sharing your personality and the behind-the-scenes into your business. (P.S. I have a post with some great Instagram Story ideas.)
Incorporate video content. Don't just write off this suggestion saying you hate video because it's actually an amazing way for people to get to know you. They can see your personality shine through like they're sitting right there with you.
Getting Your Audience to Like You
In business and in life, you're always going to repel some people. But we're not worried about them! It's more important that you focus on attracting the right people and getting them to fall in love with you. And in business, those people are your target audience.

To do that, think about who your target audience is. What would they be drawn to? What's going to make them fall in love with your brand? Keep that in mind as you're shaping your brand's voice, while still keeping it aligned with your true self.

To increase your likability status, keep these tips in mind:
Be yourself. I know this is cliché advice, but it's still important to keep in mind. You have to be yourself, otherwise people will see right through you if you're not being genuine.
Communicate with your audience. An essential step in building the KLT Factor is to start making those connections. You need to build a relationship with those in your target audience if you want to solidify that BFF status. Have conversations with them in your blog comments, through email, and on social media. Get to know them, while allowing them to get to know you in the process.
Establishing a Level of Trust
Trust is a key part of the puzzle if you want to have a successful business. Without trust, there's just no way you're making sales or landing clients. I mean, are you going to support a brand you don't trust? Nope!

As a business owner, it's your job to destroy an obstacle that stands in the way of your customer buying from you.

So, how do you build trust? Here are some suggestions:
Provide value every time. It should go without saying, but your priority should always be to show up and add value. Your blog posts, YouTube videos, podcast episodes, email newsletters, and social media posts should be oozing with value.
Position yourself as an authority. When people see that you know your stuff, it's a sure-fire way to build trust with them. As you're building the KLT Factor, know that you have so much to add to your target audience and remember that someone out there wants to learn from you.
Deliver on your promises. Maybe that should say over deliver on your promises. Either way, you cannot let your audience down. If you make a promise, deliver on it. You are here to please and serve them in any way you can.
Showing up as the amazing business owner you are is so much easier when you have full confidence in yourself and the work you do. That's why I created a free hypnosis to help you boost self-confidence. If you want to check it out, you can grab it here.