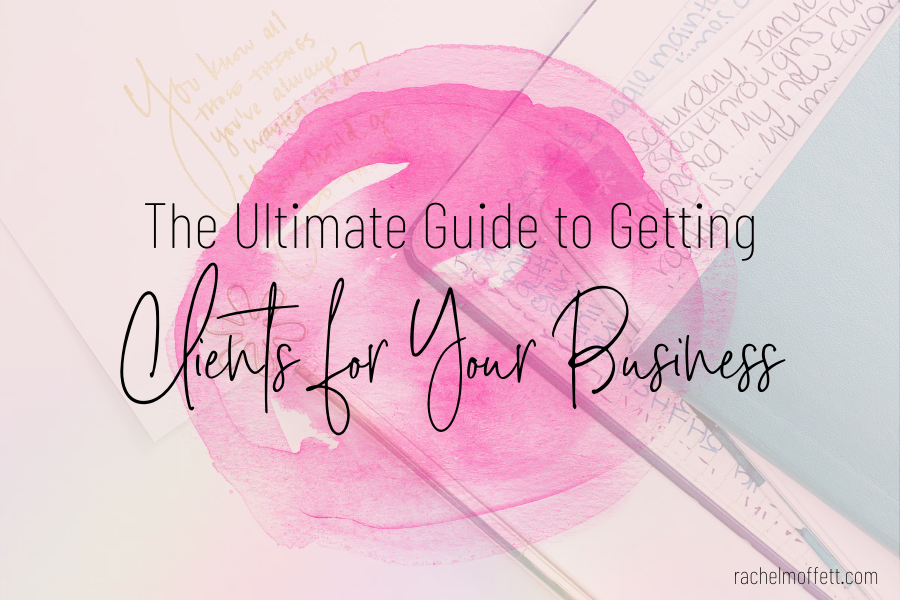 As a coach, your primary mission is getting clients for your business. Getting them onboard is what will help pay your bills, after all! But it's safe to say landing clients isn't always the easiest task, especially when you're just starting to become a service-based entrepreneur.

That doesn't mean you need to get stressed out or frustrated by the lack of clients in your business though. It just means that you need to actually do something about it!

So, I've put together this handy guide to share a few tips on building a successful coaching business of your own. That way, you never have to worry about where your next client is going to come from. Because guess what? You'll have plenty of people who are dying to work with you!
The Ultimate Guide to Getting Clients for Your Business
If you're ready to start bringing in all those dreamy clients who are excited to work with you and happy to pay for your services, here are 10 things you can do.
1. Offer Free or Discounted Services When You're Brand New
Before I dive into this tip, I want to say that I do not believe in discounting your services when you're an established coach. I feel it devalues your work and there will always be people who are willing to pay your premium prices. This tip is specifically for those who are just starting out in a service-based business and need to make a name for themselves.

Newbies will need to gain experience and they will, ideally, want to have testimonials on their sales page. People will be more likely to hire you if they can read success stories from your past clients.

Decide whether or not you want to offer up some of your time for free or if you want to provide your services at a discounted rate. Then, set out to find some ideal clients who would be interested in being a beta tester for your program.

You can find people by posting in your Facebook groups or on Instagram Stories. Or you can send out a survey to your email list to get to know your subscribers better and pick a few people for a free or discounted coaching call. Just make sure you're working with someone who is your ideal client and has an issue you can help her with.
2. Focus on Building the Know, Like, & Trust Factor
Getting clients for your business starts with the KLT Factor. You just can't do business without first building a trusting relationship with potential clients. I mean, think about it… Are you going to hire a coach you don't trust? Nope!

I've previously written a post all about building the Know, Like, & Trust Factor which shares tips on building a strong foundation for each of the three levels. Trust is arguably the most important step, so do not skip it!

My favorite trust-building tactics? Consistently providing content here on my blog and showing up regularly via Instagram. Those are my two favorite platforms for adding value to my target audience.
3. Consistently Provide Valuable Content
Building off that last point, if you want to land clients, then you need to show that you know your stuff. If you consistently show up and provide high-quality, valuable content that's targeted to your audience's needs, they'll begin to see you as an authority. They'll view you as an expert in your field, which ultimately helps build trust.

How you put content out into the world is totally up to you. You can create blog posts, YouTube videos, or even a podcast. It's also smart to incorporate a mixture of those content formats into your strategy. You need to do what works for you and what appeals to your audience. Find your sweet spot and go for it!
4. Try Incorporating Video Into Your Strategy
Getting into the video game doesn't have to mean YouTube. You could also create video content through Facebook Live or Instagram Stories. There are plenty of great options for adding video to your online presence. And the reason it's so important is that video is personable. It helps people feel connected to you and builds a strong relationship.

People get to see and hear you when they consume your videos. And ultimately, building a deep connection with your audience is key in getting clients for your business. People are more inclined to hire someone they've gotten to know and video is just one tool to facilitate that.
5. Start Networking in Person
Just because we're online entrepreneurs, it doesn't mean we can't get out and network in person! Don't keep yourself cooped up in your home office. Venture out and meet some of the local business owners in your area.

You never know what opportunities may arise for you. One of those new connections could become your next client or they may start referring people to you. It's a win-win!
6. Quit Sitting Back and Waiting for People to Find You
If you're not actively putting yourself out there to gain exposure, you're missing out on getting clients for your business. You can't sit there with your fingers crossed, waiting for someone to discover you. You need to craft growth and marketing strategies to help spread the word about your brand.

Maybe start posting more on your blog or YouTube. Or perhaps you want to be better about sharing content to platforms like Instagram and Facebook? Whatever you choose, just make sure you're taking action. Otherwise, you'll risk watching everyone else pass you by.
7. Don't Be Afraid to Promote Your Offerings
Here's the thing… You cannot be afraid of self-promotion. But I totally understand that it can be a scary thing! I've been there myself. I mean, when you promote what you're working on, you open yourself up to a world of criticism. And you also risk launching your new offering to crickets, which can be pretty soul-crushing. But guess what? Promoting yourself doesn't have to feel scary, icky, or salesy.

You should feel proud of the work you've created. You deserve to confidently spread the word about your awesome services so you can focus on getting clients for your business. But if you aren't vocal about the services you offer, how do you expect to land clients? People need to know what you have to offer them, otherwise they'll never have the opportunity to buy.
8. Try Implementing Manifesting Techniques
I run my business by combining two key things: practical business strategies and a success mindset. Both are equally important to me and I feel I cannot achieve my goals without both.

Think about this for a minute… If you're always complaining about how you don't have clients, what do you think you're going to manifest? Well, you'll continue to experience a lack of clients. By shifting your mindset, you can begin attracting happy, paying clients into your business. Here are a few things you can do:
Place clear order with the Universe that states how many clients you'd like to manifest. Do this by determining how much money you'd like to make per month and how many clients it would take to reach this income level.
Try implementing The Chalkboard Method that Being Boss has taught about.
Visualize yourself working with the dreamiest of dreamy clients. See this person getting in touch with you, paying for your service, and getting everything scheduled. Imagine the Zoom call you'll have together and how exciting it'll be to chat with this person for the first time. Before you know it, you'll be watching it all play out in real life. This is the perfect thing to do during a CEO Mindset Day.
9. Eliminate Any Obstacles That May Stop Potential Clients From Booking You
Another crucial aspect of getting clients for your business is to make it incredibly easy for them to say yes. The last thing you want is for a potential client to stumble upon your sales page and feel "meh" about it. You want your ideal client to see your offerings and say, "YES!" There shouldn't be any reservation about her taking the next step and hiring you.

How can you eliminate any obstacles preventing people from booking you? First, make sure your copy is directed to your ideal client. She should feel like you're reading her mind with the words on the page. Get inside her head and address the worries and concerns that are keeping her up at night. Then, tell her how you can make those problems disappear.

You also want to add testimonials because people love to see success stories from happy clients. It validates the work you do and shows you're legit.
10. Always Over-Deliver With Your Work
When running a service-based business, your top priority should be serving your clients and making them happy. A disappointed client could potentially destroy your reputation online. Or at the very least, leave you with a major blow to your self-esteem. Whenever you work with a client, make sure you deliver tremendous value.

And guess what? Happy clients will be more likely to sing your praises and spread the word about the work you've done. That's always a good thing!

Did you know we can work together to not only help you embody the version of you who is already a successful coach, but also craft your signature coaching offering and launch it to the world? Well, it's true! Get details on my three-month coaching package and apply for a spot.