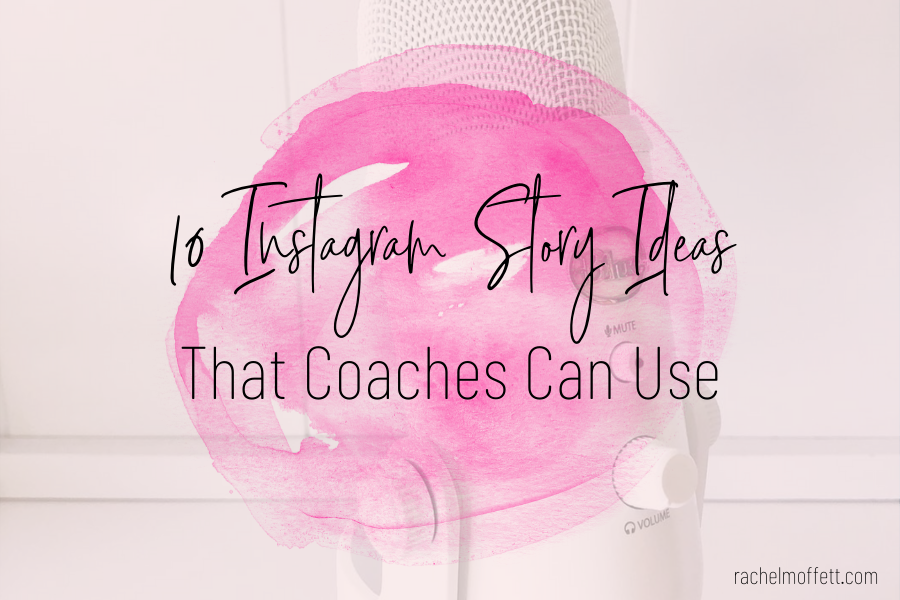 We've pretty much established that Instagram is a great tool for marketing your coaching business if your ideal client spends time there. But it's not just about posting to your feed… Coming up with amazing Instagram Story ideas and using this feature is just as important.

But let's be real. Sometimes it can be stressful trying to come up with ideas for what to post and do it consistently. So, that's where I come in!
10 Instagram Story Ideas That Coaches Can Use
Here are 10 ideas of things you can start posting to your Stories. These are perfect if you're a coach who is looking to establish her presence as an authority and start attracting clients.
1. Ask Your Audience Questions
By asking the right questions, you can learn so much about those who follow you. Do they prefer blogs or YouTube videos? What kind of topics do they want to learn more about? What exactly are they following you for? Ask away and take their responses into consideration when creating future content.
2. Share a Sneak Peek at Your Latest Project
Planning out your next awesome course? Writing a book? Or maybe you're just crafting this really cool lead magnet that's going to skyrocket your email list? Whatever it is, give your followers a sneak peek so they can see what you're up to.

Doing this builds anticipation and gets people excited about what's coming up for you. And the best part? This is super easy content to create. All you need to do is share some snippets as you're working.
3. Have a Value-Packed Q&A Session
There's a good chance your followers have some burning questions they'd love to ask you. That's why having a Q&A session is one of those amazing Instagram Story ideas that's super easy for you to create. All you need to do is share the "Questions" sticker to your Story and invite people to ask away.

You can respond to all of their questions regarding your area of expertise in order to provide tremendous value. Another option is to do a get-to-know-you Q&A where people can get to know you more. After all, that is the first step in building the Know, Like, and Trust Factor.
4. Be a Source of Motivation
We all need a good motivation boost from time-to-time. So, what can you share with your followers that will inspire them to take action? Tell a story of a past experience or an obstacle that you've overcome to show what's truly possible for them. It's also nice to share a powerful quote or even a great passage from a book you're reading.
5. Promote Your Latest Stuff
This is probably one of the most obvious Instagram Story ideas for you to share. But unfortunately, it's sometimes one of the most neglected. We can often feel a little afraid to put ourself out there and share what we've created.

Whether it's a freebie like a blog post or a paid offering, someone out there needs what you're sharing. It's also smart to share your latest feed post to your Story. Don't be shy! Spread the word and be proud of what you've done. And if you need some advice, read my post on overcoming your fear of being visible.
6. Share Your Expertise With Informative Segments
If you really want to give people a reason to tune into your Stories, give them something they can learn from. Do you have a tip that your followers can implement and benefit from? Spill the beans! Or maybe you can teach them how to do something with a tutorial? The ideas are endless. Just keep it short and sweet to hold their attention.
7. Treat it Like a Vlog
The truth is, we're all kind of nosy. Right? I know it's not just me! I love seeing what people get up to in their daily lives, as well as what goes on in their businesses. That's why another one of my favorite Instagram Story ideas is to treat it like your daily vlog.

Take your followers along throughout the day so they can see what you actually get up to. What does your morning routine look like? What's on your to-do list for the day? How do you unwind after work? Share some interesting snippets of your day so people can get to know you better and truly connect with you.
8. Say Thanks With an Exclusive Discount
Who doesn't love Instagram Story ideas that boost sales while also making your followers happy? Sharing a discount that's exclusive to your Instagram Stories gives people a reason to watch regularly. No one wants to miss out on a good deal! So, if you can offer a discount on a product, go for it!
9. Host a Takeover With a Friend
If you want to gain more exposure and grow your following, hosting a takeover is an amazing idea. You can pair up with a friend to create content for each other's audience and share it on Stories. Or you can take it up a notch and collaborate with an influencer in your field.

This is a great way to get more people to visit your profile and check out your Instagram Stories. Plus, it provides plenty of value for your followers to consume.
10. Create Themed Days to Stay on Track
Believe it or not, having themed days can make your life so much easier. You'll always know what kind of content to post on each day. For example, share an inspirational story for a Motivation Monday series. Or maybe create a Tip Tuesday where you offer some up actionable advice that your audience will love. Do this consistently each week and it'll give people something to look forward to.