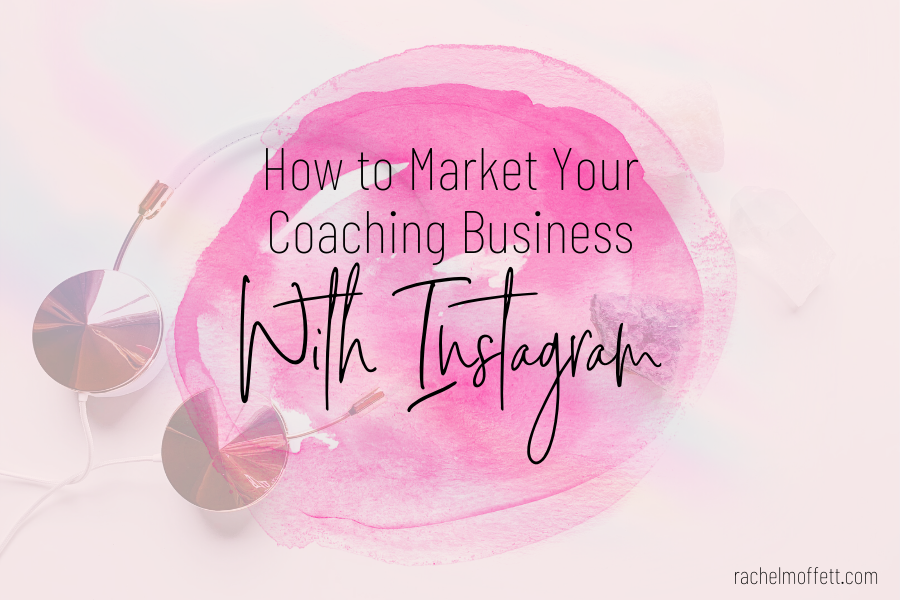 Instagram is, without a doubt, one of the most popular social media platforms available today. So many of us are using it, checking our feeds, and watching Stories on a daily basis. Because of this, there's a good chance your ideal client is there. That's why it's an amazing platform to invest time and energy into if you want to market your coaching business.

But if you aren't using Instagram strategically, then there's a good chance it's not generating website traffic for you or landing clients. And if you aren't seeing those kinds of results from your Instagram efforts, why bother? So, let's talk about how we can change that!
How to Market Your Coaching Business With Instagram
If you're ready to dive in and improve your Instagram presence to market your coaching business, this post has some tips to help you attract all the right people.
Craft a Captivating Bio
When someone visits your profile for the first time, one of the things they'll take a look at is your bio. It communicates who you are, what you're all about, and will be a deciding factor in whether or not someone follows you. So, how do you make it stand out?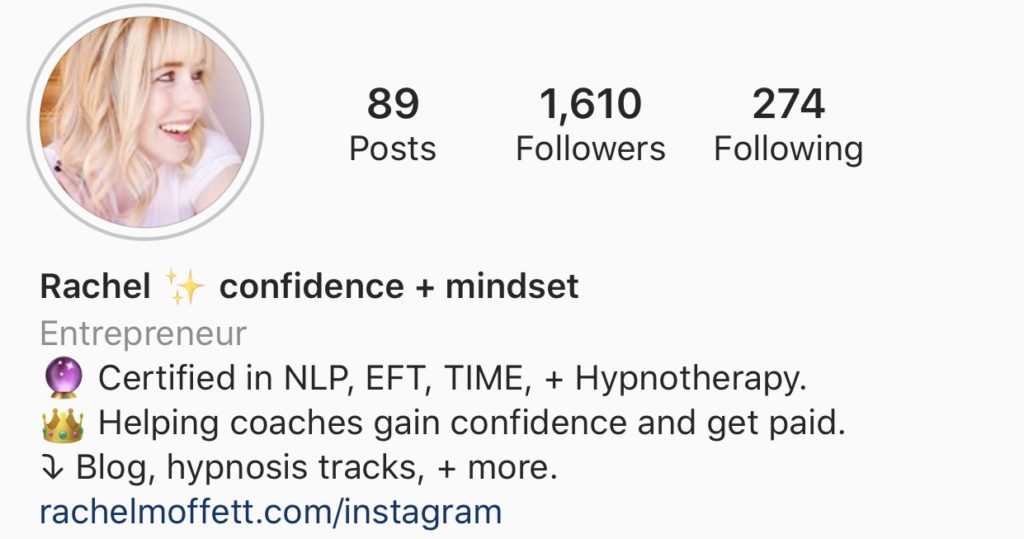 Elements of a Great Bio
Make sure the name area actually depicts your title within your business, meaning the kind of work you do. This is important because it'll help you show up in search results when someone is searching for a specific kind of coach. If you're a relationship coach, add that here so it's super obvious to people.

When writing your bio, you want to consider your ideal client and how you serve her. That's what you want to make sure you communicate here because clearly stating what you do is one key to effectively market your coaching business. Think about the transformation your service delivers and showcase that here!

And finally, don't forget to link to your website! Personally, I have a dedicated Instagram page on my site with all my most important links, but there are other options out there (like Linktree).
Understand Your Audience
In order to deliver content that resonates with your target audience, you need to understand what appeals to them. When you're using Instagram to market your coaching business, you need to think beyond just pretty pictures. The content you post should serve a purpose.
The Secret to Great Content
The best kind of content to post on Instagram is content that addresses your audience's pain points. How are you able to help them overcome their struggles? When you use your captions to provide the solutions they're looking for, it gives them a reason to follow you and check out your posts.

You also want to share images that speak to your audience. What will grab their attention when they're scrolling? A selfie, a picture of your workspace, your morning cup of coffee? Experiment and see what gets the most engagement.

Take a look at your Instagram profile and ask yourself the following:
Does the subject of my photos resonate with my audience?
Am I writing captions that will grab attention?
Have I remembered to include a call to action that will increase engagement, website traffic, leads, etc.?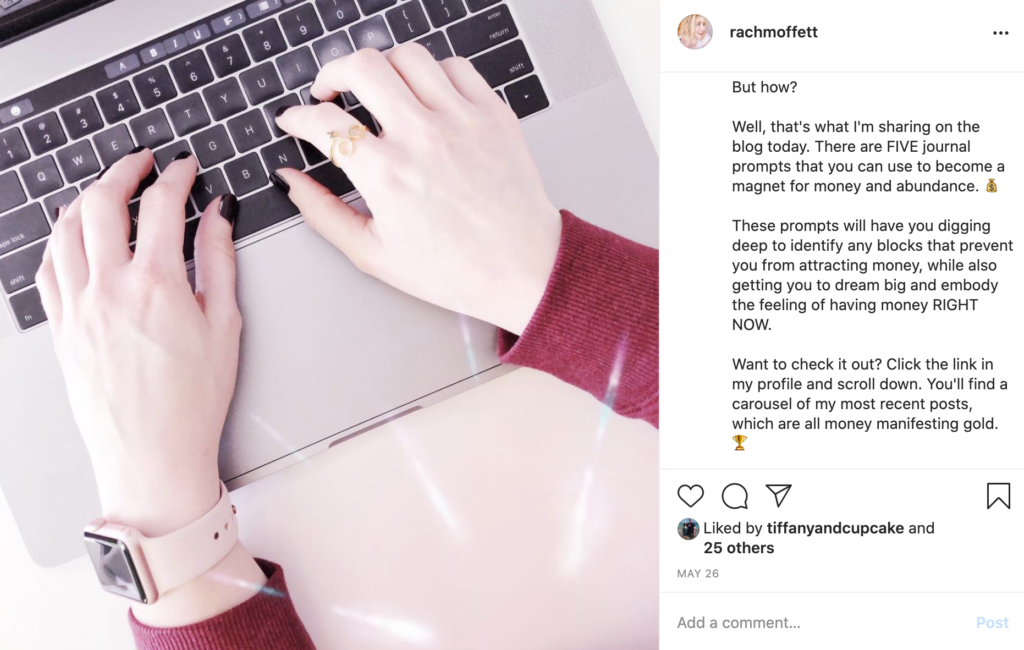 That call to action is crucial here because you need to tell people what to do or where to go next. For example, ask them to leave a comment, tell them to visit your site, or even encourage them to send you a DM.
Be Willing to Get Personal
Try sharing a mix of business and personal content on your Instagram profile. Personal content allows people to get to know you better, which is the first step in getting them to like you and ultimately building trust. You need to go through all of these steps before anyone will ever consider hiring you as their coach.
Choose the Right Hashtags
To get your Instagram posts seen by the right people, you need to be smart about the hashtags you're using. They need to be relevant to your image/caption and also something your target audience would be scoping out.

For example, if my post is promoting my free hypnosis track, I'd want to use hashtags related to hypnotherapy. That way, anyone searching for this on Instagram will see my post and hopefully download my freebie.

But don't use the exact same set of hashtags each time. Instagram has been known to "shadow ban" people and hashtags by preventing posts from showing in search results.
Be Consistent With Posting
A key element to successfully market your coaching business on Instagram is consistency. Their algorithm favors accounts that are active. The more you post, the more opportunities people have to engage with your content. The more they engage, it increases the odds they see your posts whenever they're on the app.

Ideally, it would be wise to post to your Instagram feed once per day. However, you also don't want to post for the sake of posting. You want to be sure your content actually serves a purpose by delivering value.
Batching Your Content Creation Helps
If you can, block off some time to focus solely on creating Instagram content. Start by brainstorming ideas by considering what would be helpful for your target audience. From there, you can begin writing a bunch of captions and saving them for use in the future.

Then, think about what kinds of photos you'd like to have on your feed. It helps to consider what catches your eye on Instagram because it might speak to your followers as well. Oh, and don't be afraid to mix up the subject of your photos. It's your Instagram and you're allowed to have fun.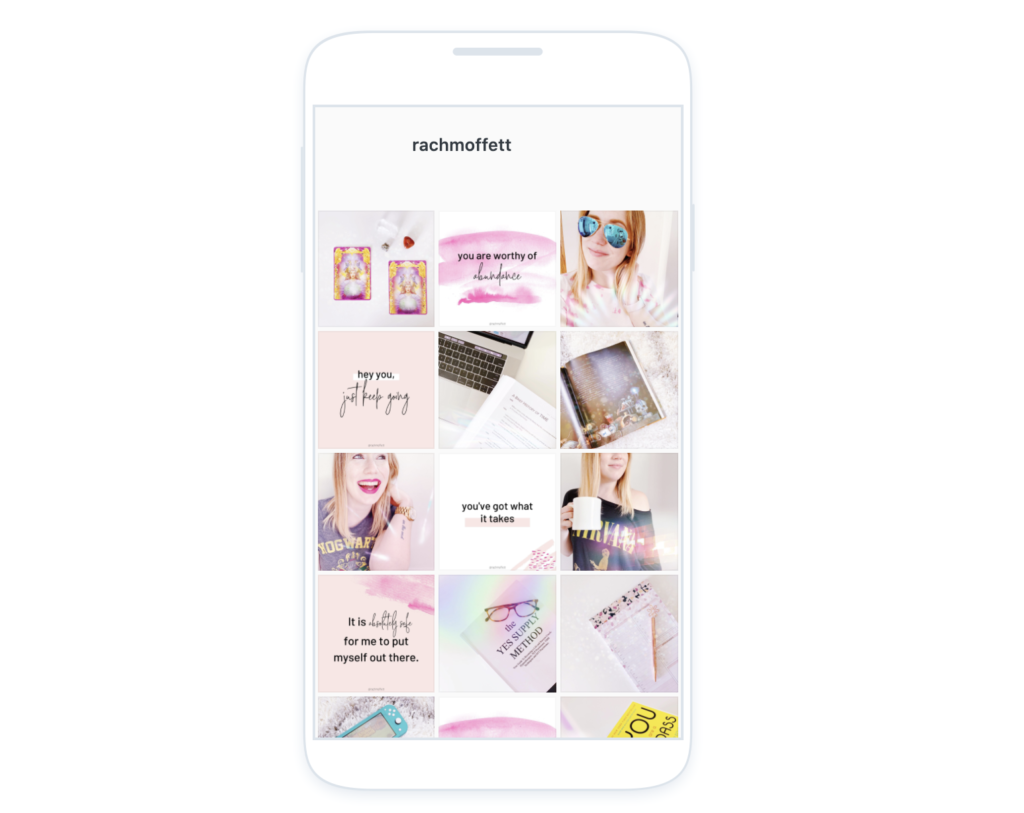 Once you've done this, you can pair captions and photos and begin scheduling them with a third-party scheduling tool. This way, everything will be scheduled and ready to go!
Engage With Your Audience
The worst thing anyone can do on social media is share a new post and simply walk away. One of the most amazing things about platforms like Instagram is how easily it has made it for us to connect with people all over the world. So, if you're not actively engaging with them, you're missing the whole point of social media.
Go Beyond Just Liking a Photo
The next time you're scrolling through your feed and you give that double-tap to like someone's post, let's take it a step further. Actually leave a genuine comment. People appreciate this. Instagram loves it because it shows you're active. And it's a great conversation-starter.

Another great idea is to visit some of your favorite hashtags to use and comment on the top nine or nine most recent posts for that hashtag. It helps you discover new accounts and generates exposure for you.

And when it comes to your posts, encourage people to leave comments by asking a question. As the replies start coming in, make sure you respond back.
Take Advantage of Instagram Stories & IGTV
When using Instagram as a tool to market your coaching business, you don't want to neglect Instagram Stories or IGTV. Both of these features provide amazing opportunities to connect with and provide value to your target audience.

With Instagram Stories, you can take people along throughout your day, giving them a behind-the-scenes look into your life. This shows off your personality and helps people to build a stronger relationship with you.

And with IGTV, you can share quick tips and tricks that address the common pain points your target audience has. You might even want to create a series that you create content for each week.
Actually Talk About Your Services
People are not mind readers. And you can't count on them to visit your website and check our your services on their own. That's why you need to be confident about putting yourself out there and promoting your coaching services.

Talk about what you have to offer and the transformations you've helped clients get. Help them see that you have an amazing service that they should invest in. But don't just do this once! Do it often because your coaching programs deserve the recognition.
Measure Your Success
As I said before, you need to be strategic when it comes to what you're posting on Instagram. However, you won't know if your efforts have been successful if you aren't watching your analytics to track your success.
Metrics to Watch
The metrics you pay attention to will depend on your goals. If you're using Instagram to market your coaching business, you're probably looking to generate brand awareness, increase engagement, gain website traffic, and land conversions (email subscribers, new clients, etc.).

Don't stress over vanity metrics like followers because it's not about quantity, but rather the quality of the followers you have.

With these goals in mind, you can then create content that will help you get from where you are now to where you want to be. Afterwards, check to see how the post performed and if it generated the desired results. If it did, great! Create more of that content. If it didn't, tweak and keep moving forward.