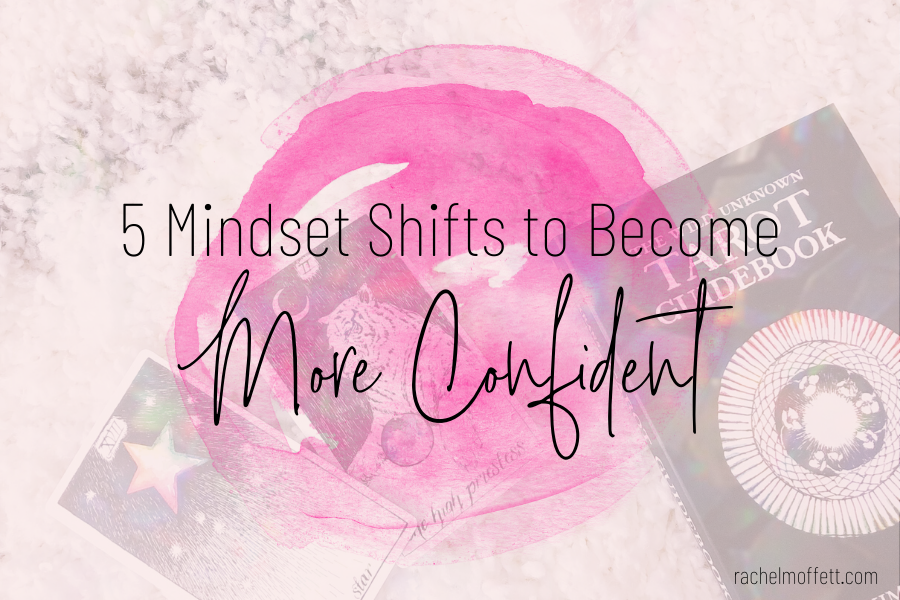 I'm going to let you in on a little secret. I haven't always been super confident in my business and my abilities. When I first started coaching back in 2015, I was terrified. So many limiting beliefs flooded my mind when I landed that first coaching client.

Am I good enough to do this? What if I fail? What if this client hates me?

But here's the thing… Questioning whether or not I was cut out for this life was setting me up to be a major flop. I mean, if your subconscious is harboring all these negative vibes, then it'll be reflected in your physical world. So, I knew I had to make a change to become more confident and step into the powerful, successful version of myself.
5 Mindset Shifts to Become More Confident
If you're in the same boat, there are a few things you can do as well. And they're all things I incorporate into my daily routine so I'm constantly making shifts to be my most confident self. Here are five of my favorite mindset shifting practices for you to try:
1. Try Emotional Freedom Technique
Also known as "tapping," Emotional Freedom Technique is a powerful way to relieve emotional distress you may be dealing with. If you're not familiar with this practice, you'll literally tap on specific points of the body while reciting affirmations. It's as simple as that!

It helps you decrease any negative feelings or pain you're experiencing (anxiety, limiting beliefs, and even headaches). Then, you can step into a more positive state with empowering affirmations to rewrite how you're feeling.

If it's a lack of confidence you're dealing with, you can do a round of tapping on exactly what the problem is. Then, you'll tap while saying positive affirmations such as… I am confident. I'm able to achieve my goals with ease. I am worthy of creating success in my life.

In just a matter of minutes, you'll be feeling so much better! And the best part? This is something you can do every day whenever those pesky self-doubts come up. You can create your own script as you go or watch a video online. In fact, I have a Tap With Me video on IGTV that you can turn to whenever you feel like you're not good enough to be a business owner.
2. Model the Physiology of Confidence
To become more confident in yourself, you need to need to own it. And how exactly do you do that? Well, that's where physiology comes into play. Think about someone you know who is confident and the way they carry themselves. Do you imagine a confident person sitting at their desk, slumped over with a frown on their face?

Nope! You would envision this person sitting up straight, smile on their face, and exuding positive vibes. Go ahead and try this for yourself. Adjust your posture right this very moment. Sit up straight. Put on a genuine smile by thinking of something you love. By doing this, it tells your body that you're in this powerful state of feeling confident. This can then shift your behavior and ultimately, your results.
3. Listen to Hypnosis Tracks
As a certified Clinical Hypnotherapist, I love creating hypnosis tracks for myself. Through hypnosis, you can speak directly to your subconscious mind to make major shifts in how you think and feel. And as we know, our conscious mind only runs approximately .004% of our daily habits, behaviors, decisions, and thought patterns. Our subconscious mind runs the other 99.996%. So, it's important that your subconscious mind believes positive things, right?

That's why hypnosis is such an amazing tool! You can use it for weight loss, to quit smoking, to shift your money mindset, and yes, to become more confident.
But you don't have to be a Clinical Hypnotherapist to reap the benefits of hypnosis. I've actually created a free hypnosis track you can download to become more confident. It's just 10 minutes long and it's the perfect way to get your day started. If you're ready to start showing up as your most confident self, download it here.
4. Get Outside Your Comfort Zone Daily
Let me ask you a quick question… What's something you can do today that would help you become more confident? Maybe you see the value in using Instagram Live to grow your business, but the thought of pushing the button actually freaks you out. Perhaps you hesitate to talk about your business with friends or family members or you worry about promoting your offerings. Whatever it is, it's time to take action.

Come up with something small you can do each day to get outside your comfort zone. Whether it's going live, opening up about your work to those important to you, or spreading the word about your latest creation… Just go for it! And keep doing this every single day until it becomes second nature for you. In time, things that used to frighten you will become no big deal.
5. Work With a Coach Who Can Help
You can do some truly transformative work when you have a skilled coach by your side. A coach can be there to provide support and guide you toward achieving your biggest goals. As a coach myself, I absolutely love working with my clients to help them become more confident because it's something I've also struggled with.

After getting certified in powerful modalities like Neuro-Linguistic Programming and Clinical Hypnotherapy, the shifts my clients have made have been tremendous. In particular, I love using a technique called Single Belief Change, where we get to the root cause of their self-confidence issues and make that belief untrue. Many times, years of negativity can be released with just a single technique.

If you want to experience these transformations for yourself, I'd love to work with you. Instead of holding yourself back because you're lacking the confidence to go after what you want… You'll feel powerful, successful, and wildly abundant. You will trust that your success in life and business is inevitable. And the results you receive will be indicative of that.

You're ready to stop playing small, right? So, what are you waiting for? Book a session today.