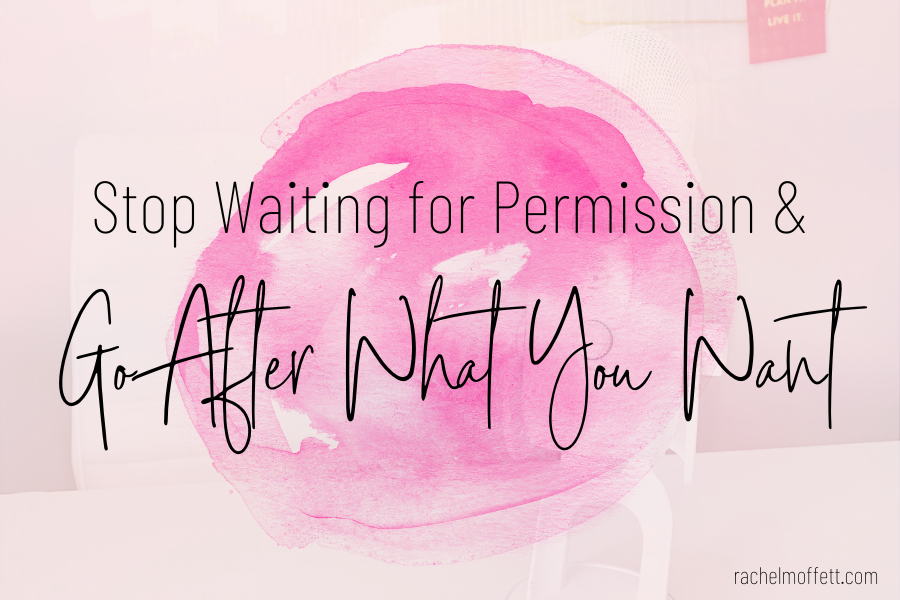 Let's talk about waiting for permission.

Far too many people feel like they need to get permission from some outside source to do the things they want to do. But the reality is, you're an adult. You're not a child anymore. And that means you don't have to ask permission from your parents, teachers, or anyone else.

If you want to create a more fulfilling life, that's for you to decide. You decide what that looks like for you. And you decide to go for it, even without official permission from others.

That's what this podcast episode is all about.
You can listen to the episode above or read on for the recap!
Waiting for Permission
If there's a goal that you've been feeling stuck on… Think about that goal and ask yourself if you've been waiting for permission from some outside source to start taking action.

Then, ask who you feel you need approval from. Who needs to tell you that it's okay for you to pursue this desire? Who do you think needs to write that permission slip before you'll start the business, write the book, or launch the program?

And why can't you just write that permission slip yourself?

The reality is, you're likely using it as an excuse because there's something else buried deep down inside that's preventing you from taking action. The reason you're waiting for permission is because you want someone to validate you. You want someone to tell you that you're good enough, worthy enough, pretty enough, creative enough… And no one needs to affirm that for you. You can do that for yourself.

Waiting for permission is just an excuse to put off going after your dreams.
When You Stop Waiting…
When you realize that your life is entirely up to you and you don't need permission from anyone else, you will experience a freedom like you've never felt before.

Waiting for permission will get you nowhere because, odds are, you aren't going to get it. Nobody can give you permission but yourself. Not only that, but you don't need their permission. Those people don't call the shots in your life. You do.

And while you're wasting time, awaiting their approval, you're missing out on important opportunities.

So, stop looking for external validation that you're doing the right thing or on the right path. Take control of your success and write that permission slip for yourself.